News, Reviews, and Recipes.

We are proud of our core values. Keep reading to learn what Crosby Roamann stands for.
Our core values guide our brand in all production and marketing efforts:
Sumptuous and delicious wines for all occasions, with

A focus on terroir, and
A luxury lifestyle philosophy.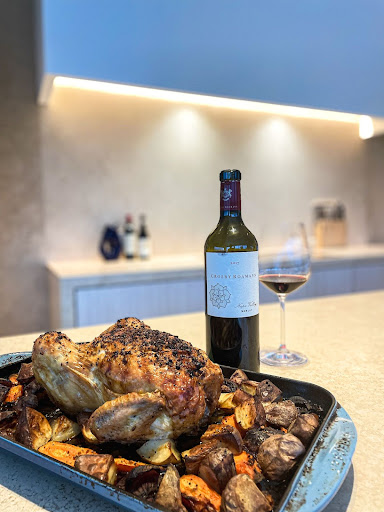 Let's start with the first one: Sumptuous and delicious wines for all occasions
If we were to say there was one single idea that guided everything that we do, it would be our commitment to producing world-class wines that are sumptuous and delicious for all occasions.
A great example of this is our Cheese & Charcuterie Board Experience!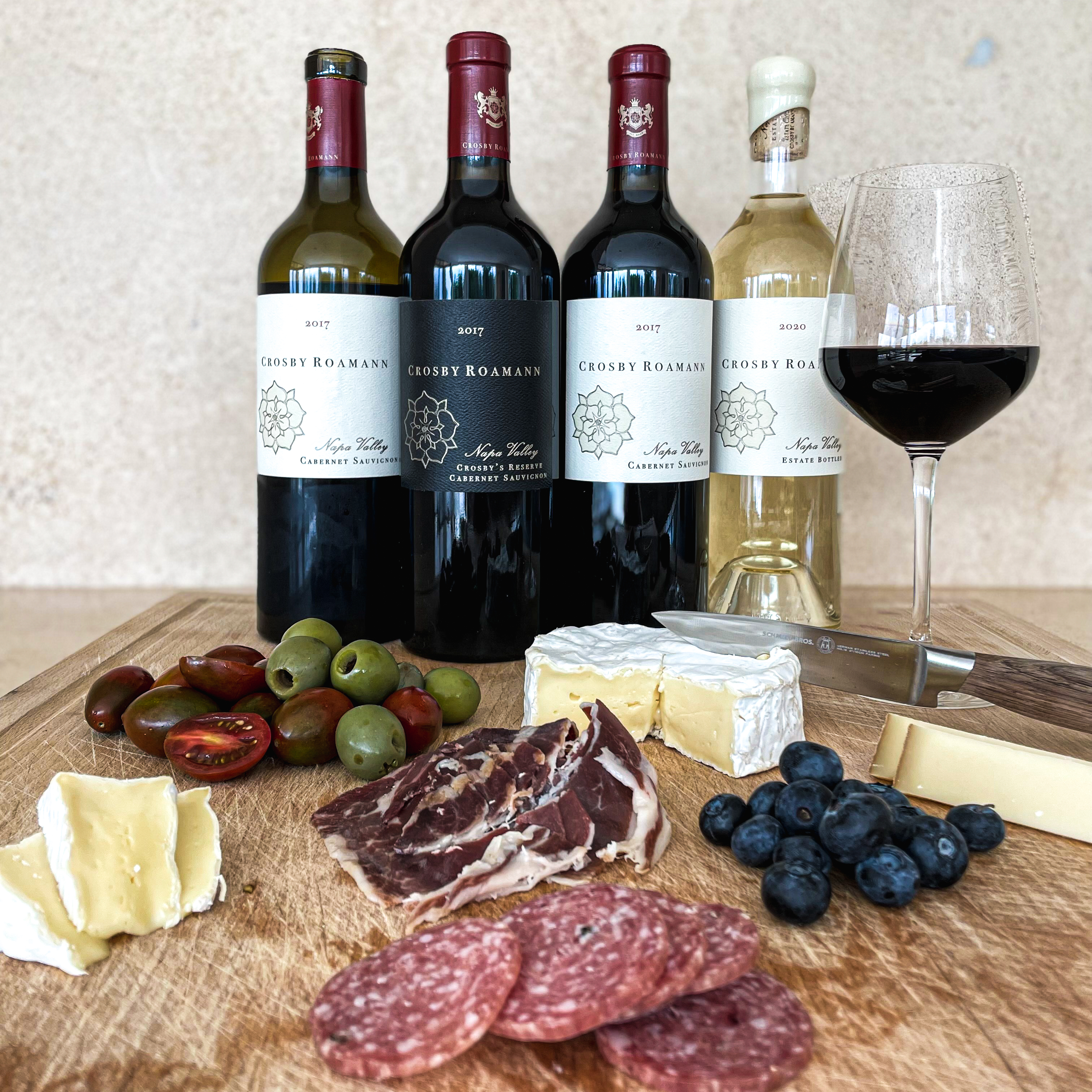 Enhance your visit to wine country with a cheese and charcuterie board from our select Napa Valley salumeria. The Crosby Roamann Tasting Salon Experience includes a private, guided tasting through our winery and a selection of current-release Estate Bottled Crosby Roamann and Sean W. McBride wines. Our modern tasting room is located in Napa's Crusher District, just a few minutes from downtown.
Book The Tasting Salon Experience and add on a Cheese & Charcuterie Board when checking out.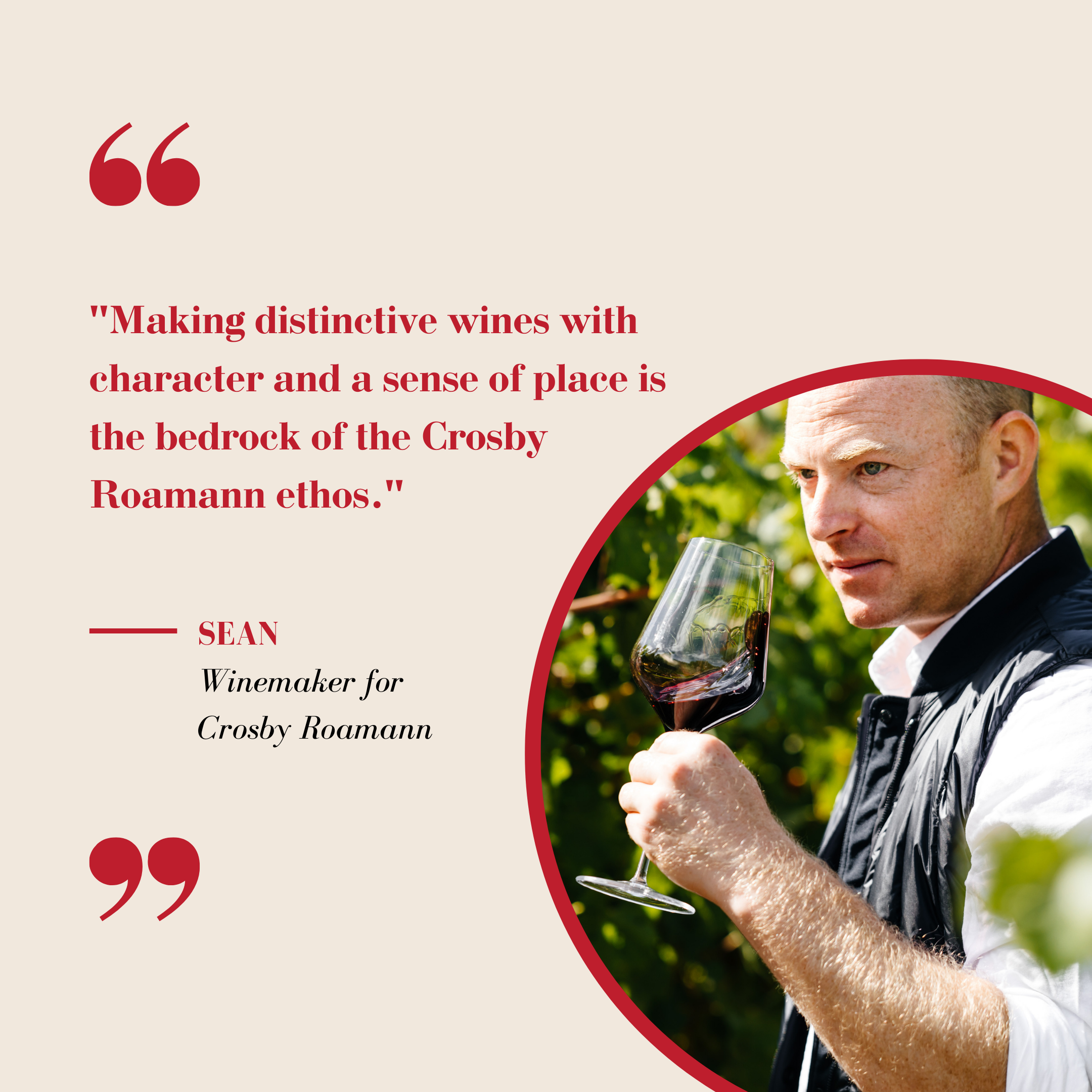 The next of our the 3 values is to focus on the terroir.
"Making distinctive wines with character and a sense of place is the bedrock of the Crosby Roamann ethos."
- Sean, Winemaker for Crosby Roamann
This quote speaks to our focus to create terroir-driven wine. We believe that the finest wines in the world express their time and place, in a word -- their terroir -- the idea that wines should express not just the soil and temperature of the vineyard, but also the people whose hearts and souls produced them.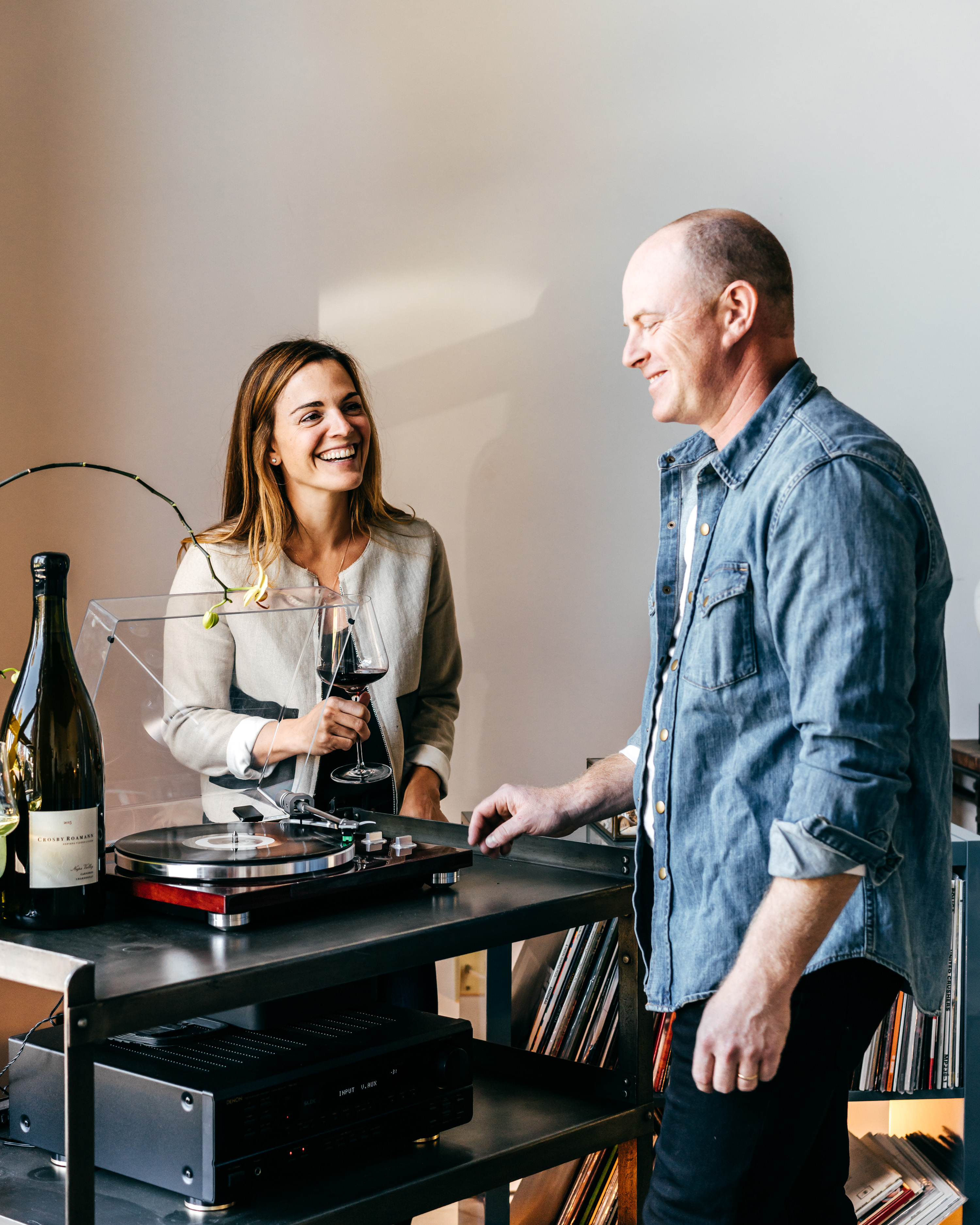 The last of Crosby Roamann's 3 values is that we feel our brand and wines fit into a luxury lifestyle philosophy.
And by the necessary constraints of our first two values — to create delicious wines for all occasions and have a focus on terroir — the finest wines in the world are made in the smallest of quantities and are highly sought after by collectors all over the world.
---
We'd also love to share some photos from our art and wine event in the Hamptons. The White Room in Bridgehampton, NY hosted the Crosby Roamann team at an exclusive event on earlier this month where we offered the perfect pairing of authentic art with sophisticated wine from Napa Valley. Thank you to all who attended!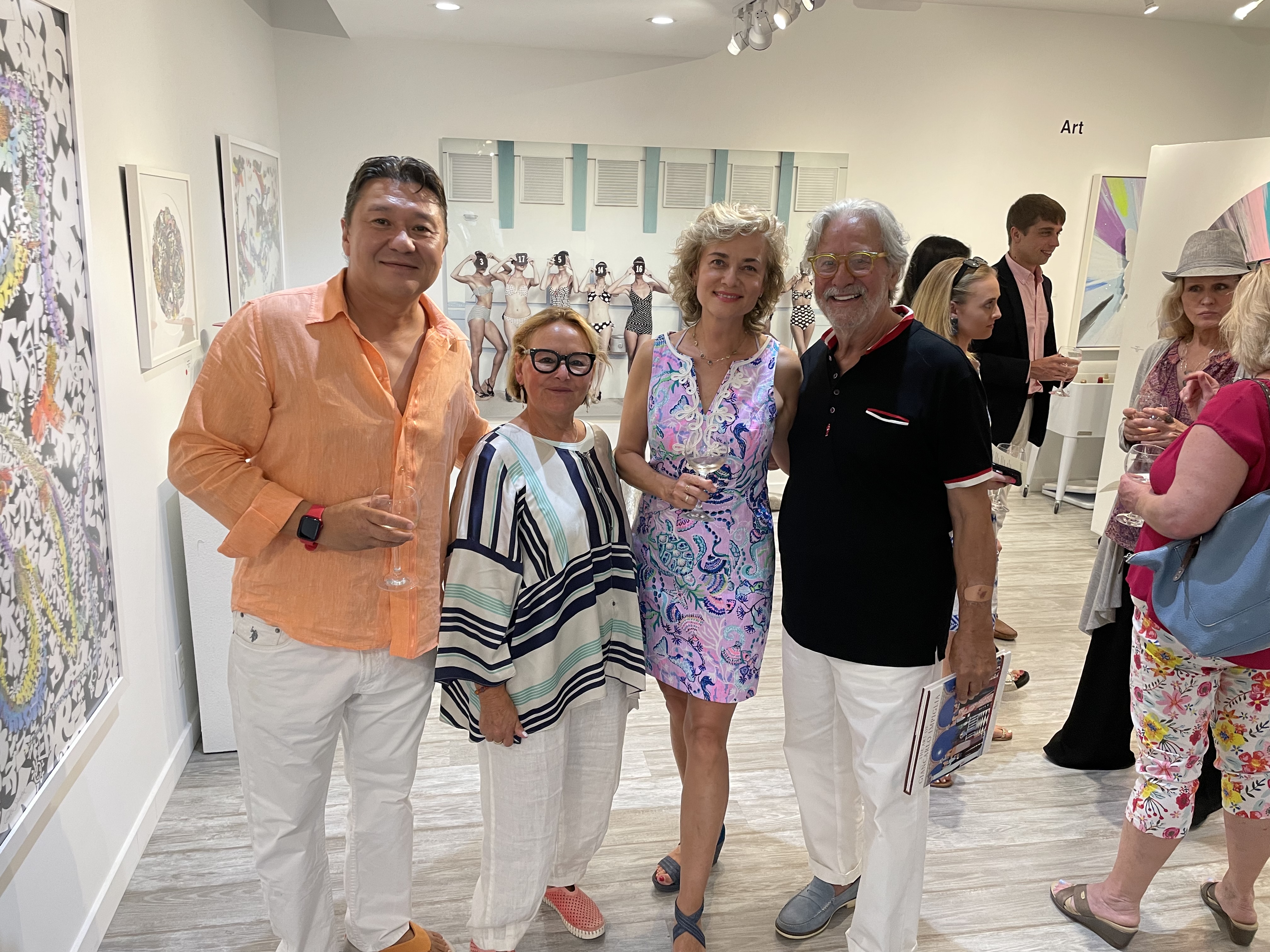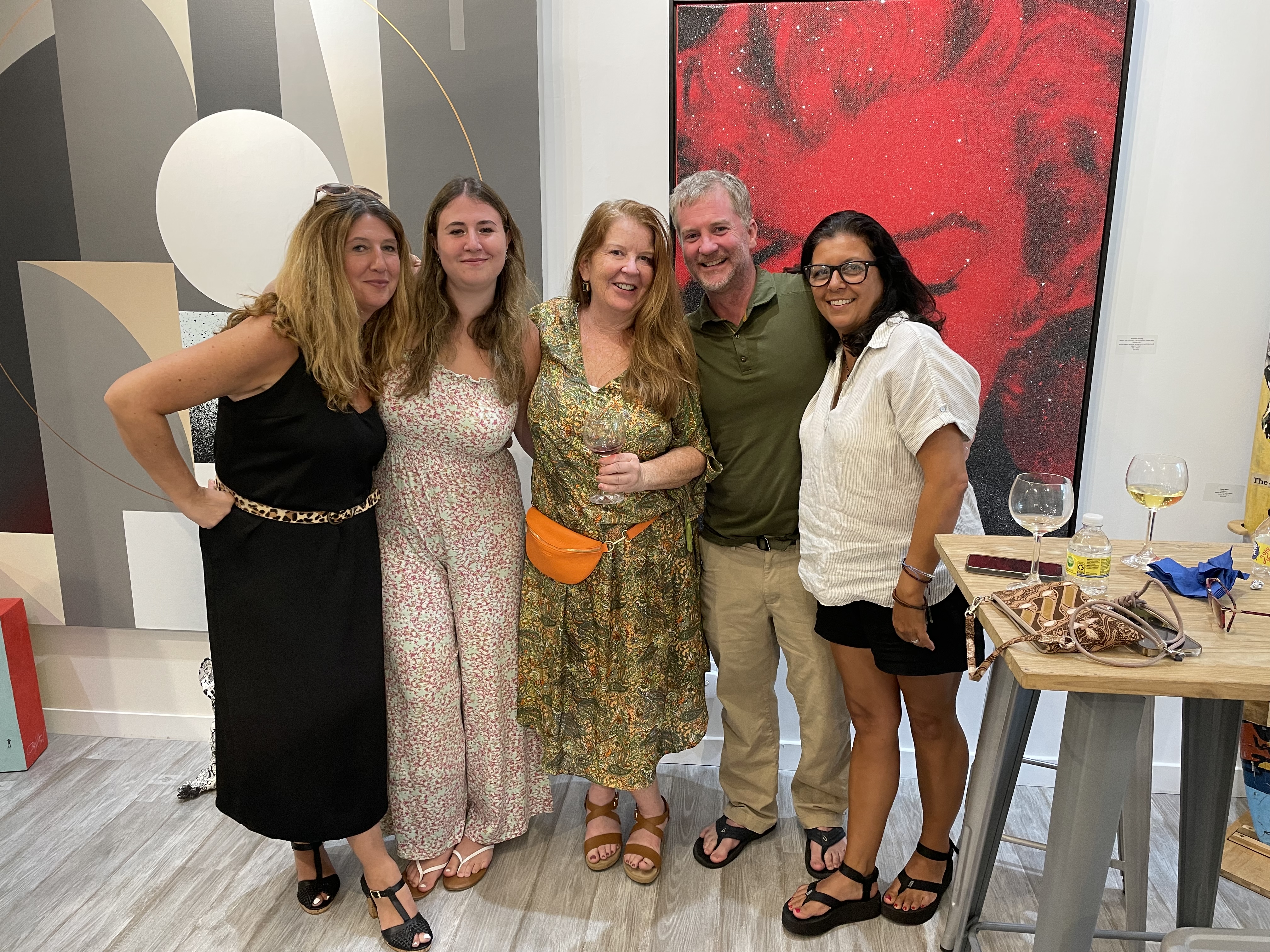 The White Room in Bridgehampton, NY presents Crosby Roamann at this exclusive event on July 14th that pairs authentic art with sophisticated wine from Napa Valley.

WHAT TO EXPECT
Stroll through Bridgehampton and enter this eclectic art gallery to begin your night. Maybe you've spent the day with your feet in the sand or enjoying the Atlantic summer breeze with your friends — you're ready for a glass of wine…or a few.
The expert winemaking team from Crosby Roamann will walk you through a tasting of our conscientiously farmed and handcrafted wines. In this unique experience, you'll be treated to the finest of what Crosby Roamann has to offer, including our Cabernet Sauvignon, Pinot Noir, and Chardonnay. Select a glass of your favorite and enjoy the remainder of this special evening.
We'll showcase our new favorite wine glasses from one of the world's finest glassware companies, Josephinenhütte. When you have wine as luxurious as ours, you want to pair it with the finest craftsmanship in a wine glass that uniquely unfolds the taste and aroma of the wine.
Enjoy work from photographer, Greg Lotus, as you wander the gallery with your wine. Greg has been regularly featured in Italian Vogue, Vanity Fair, GQ, L'Uomo Vogue, and W magazines. Appreciate his photographs that were inspired by classical paintings and his diverse life adventures.
We will have new releases of Crosby Roamann merchandise available that no one has gotten their hands on yet. Grab a hat or bag for your upcoming beach days and share stories of your evening with others!
THE DETAILS
Join us Thursday, July 14th from 5 - 8 PM for this exclusive opening night event.
The White Room Gallery
2415 Montauk Hwy, Bridgehampton, NY 11932

If you can't join us for this event, pop in from 11 AM to 5 PM all weekend long for a wine tasting and to purchase bottles to go.
We look forward to meeting you are sharing our distinctive wines.
Are you ready to experience Napa Valley in the Hamptons? Don't miss it!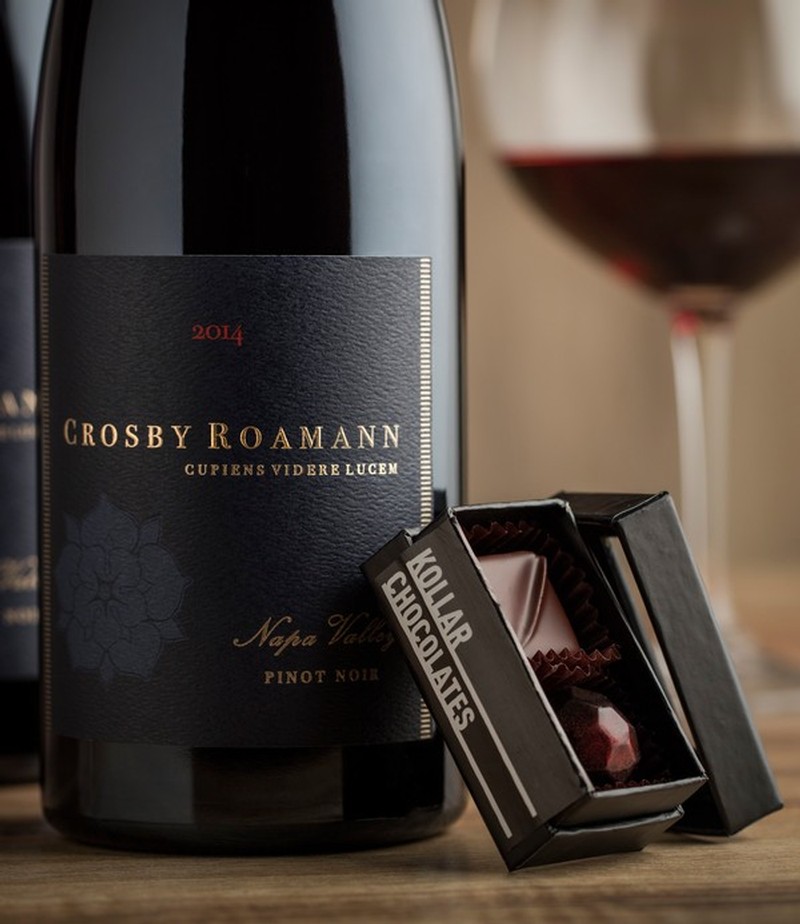 Join us on Monday July 4 for a special Chocolate Pairing included with your Tasting Salon Experience. Tastings available from 10am-2pm.

The Chocolate Tasting Experience
Partnering with local chocolatier Kollar Chocolates -- this Tasting Salon Experience includes a sixty-minute seated tasting of five wines from our current releases paired with fine chocolate truffles from Napa Valley. Our wine tasting includes both our Napa Valley Estate Bottled Crosby Roamann wines and a selection of single vineyard Pinot Noir, Chardonnay, and Cabernet Sauvignon.
Book now for parties up to 6. For large parties, please Contact Us.

Don't miss it: The White Room Gallery Event, Bridgehampton, NY
We will also be at the White Room Gallery in Bridgehampton, NY for wine tastings and bottles to go (bags to the beach!) all weekend long - Thursday, July 14th to Sunday, July 17th. RSVP HERE for our opening night event, or just pop in 11am-5pm all weekend long.


Enjoying Anderson Valley Pinot Noir Month
with Grilled Flank Steak and Chimichurri
We love this simple steak recipe for so many reasons. For one thing, flank steak grilled over charcoal in a Webster BBQ was one of my father's staples on the weekend. I think we must have eaten this at least three times a month during the summer. Flank steak grilled over a very high heat will develop a wonderfully smoky thick crust while maintaining a perfectly-pink medium temperature when sliced into. It makes a perfect Memorial Day or Father's Day centerpiece.

We pair our flank steak these days with a chimichurri sauce inspired by our friends from Argentina, who came to visit us in Napa in 2015 for a week and prepared a true Argentinian steak night feast with multiple cuts of beef paired with this wonderful sauce. We adapted our own version of this from Bon Appetit, below.

There are few things in life as pleasurable as simple recipes like this one. It's a hard recipe to go wrong with, and very easy to customize to your liking. Make it as spicy or mild as you prefer. The Fresno chile adds a delightful red sparkle.

This time of year, we are pairing most of our evening meals with various shades of Pinot Noir. In honor of Anderson Valley Pinot Noir month, try our 2018 China Block Pinot Noir Anderson Valley Produced & Bottled by Sean W. McBride – available online for a limited time.
Crosby Roamann has $1 shipping on all cases through June. Put a case together now and enjoy our wines all summer long!
Chimichurri with Grilled Flank Steak
#CookingWithCrosbyRoamann
Ingredients:
Chopped finely:

1/2 Fresno chili
1 medium Shallot
5 garlic cloves
½ bunch cilantro
½ bunch Italian parsley
2 Tbspn. Oregano

½ cup red wine vinegar (we make our own)
1 Tsp. Kosher salt
¾ cup extra-virgin olive oil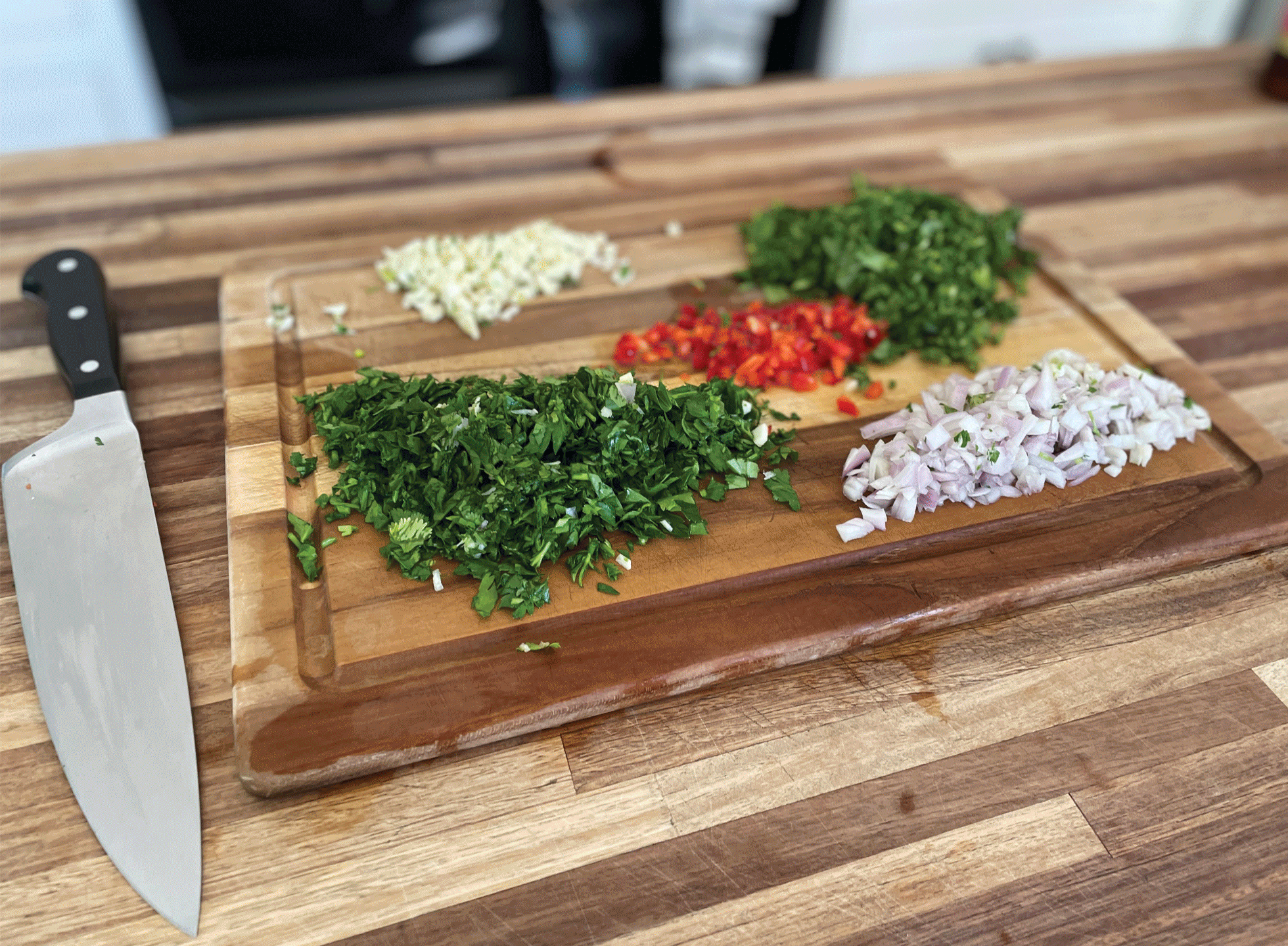 Preparation:
Stir the chili, shallot, and garlic, with a pinch of cilantro, in a medium bowl with the salt and vinegar. Let sit for 15 minutes.
Stir in the remaining greens and oregano.
Using a fork, whisk in the olive oil to make to make a chunky paste.
Use half of the sauce to coat your flank steak on all sides. Set this aside to marinate for at least 30 minutes and up to a half day. Transfer the remaining half of the sauce to a large (2 cup) liquid measuring cup.
Using a handheld blender on high speed, puree the remaining half of the sauce to a form a lightly chunky paste. Serve this with your grilled flank steak.


Enjoy in good cheer,
Juliana & Sean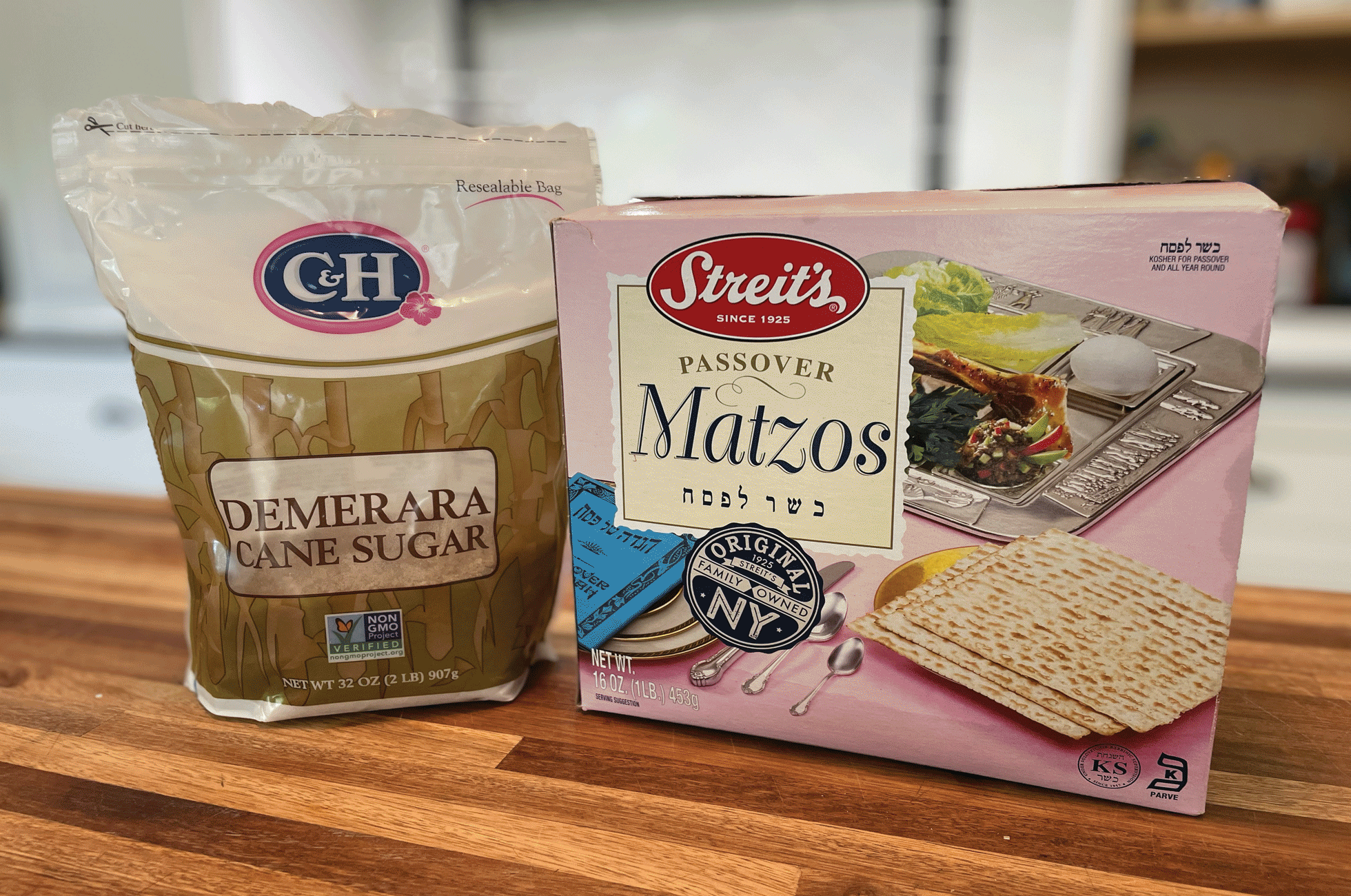 Matzoh Brie is a traditional breakfast during the Passover holiday. We grew up with our grandparents making this dish for us on vacation, splendidly sprinkled with generous amounts of sugar on top!
Ingredients
½ box of kosher Matzoh for Passover (1/2 lb. of matzoh) broken into 1/4s and smaller pieces
12 eggs
¼ - ½ cup water (if necessary)
½ Tspn kosher salt
¼ stick butter
1/3 cup Demerara light brown sugar
Maple syrup, confectioner's sugar, jam, or honey for serving.
Directions
Beat the eggs is a large glass bowl or baking pan, at least 2 inches deep, like the one pictured.
Season with salt.
Add the broken pieces of matzoh, stirring to coat and break up the larger pieces as you go.
If there isn't enough beaten eggs to fully coat and saturate the eggs, add ¼-cup to a ½-cup of water and turn the matzoh pieces to fully immerse them in the egg mixture.
Let the matzoh-egg mixture rest for at least 30 minutes and up to an hour.
Melt the ¼-stick of butter without letting it brown.
Add the matzoh-egg mixture and reduce the heat, stirring the matzoh-egg to allow the mixture to evenly cook over medium heat. Every two or three minutes, add a large pinch of the Demara sugar and turn the sugar into the eggs, scooping up any bits of egg stuck to the bottom and the sides of the pan.
You will know the matzoh-egg mixture has been fully cooken when it begins to brown slightly and is no longer runny.
Transfer to plates and garnish and serve with Maple syrup, confectioner's sugar, jam, or honey.


Stimulating and crisp, Sauvignon Blanc evokes the fine flavor of the "wild white" natural beauty. The green-skinned grape is, after all, prized for its refreshingly high acidity and bold herbaceous aromas of citrus, grapefruit, and gooseberry.
But that isn't to say that Sauvignon Blanc is a variety that can't be aged in oak. A bit of barrel fermentation and handpicking of slightly riper grapes can result in a sophisticated bottling designed for a longer life.
It's not surprising that Sauvignon Blanc is quite a polarizing wine. Some believe it's the best white wine, while others wouldn't dare put it in their glass, let alone keep a bottle in their cellars. And there's the common misconception that Sauvignon does not make a wine for aging. But perhaps, we'd wager, it's this varietal prejudice that keeps wine lovers from indulging in the real potential of Sauvignon Blanc.
Ageing Sauvignon Blanc
Dry, complex, creamy, and full-bodied – these words describe the perfectly aged bottle of Sauvignon Blanc.
Nearly all the world's best red and white wines see oak in some form before making their way into a bottle. Oak barrels have tannin, which helps a wine mellow with time, softening and rounding out the flavors. While it's fun to catch Sauvignons while they're young, they develop beautifully when aged in French oak barrels. They offer warmth and smokiness on the nose but still retain some of the crisp, green fruit flavors of unoaked Sauvignon Blanc.
Barrel-aged Sauvignon Blanc is a rare specialty. We know from experience that different food flavor combinations have natural affinities for one another, like strawberries and chocolate or a mustard and dill dressing for smoked salmon. In the same way, Sauvignon Blanc has an affinity to French oak. The French oak tends to impart elegant flavors of candied nuts, berries, and a hint of vanilla onto Sauvignon Blanc. Wood also molds the wine to feel creamier and broader on the palate for a rich, lasting finish.
Sauvignons from Pouilly-Fumés and Sancerre are deliberately designed for a longer life, displaying pleasant truffle aromas after a couple of years in the bottle. These wines can remain alive for decades and retain a remarkable bouquet.
Intriguingly, Sauvignon Blanc maintains its pale color throughout aging. As other whites take on a darker yellow the longer they sit in oak, barrel-aged Sauvignons remain indiscernible from current vintages.
Experience The Richness and Finesse of Barrel-Aged Sauvignon Blanc
Oaked Sauvignons have remained a sideshow in the Sauvignon Blanc story for far too long. As Sauvignon Blanc Day approaches on the 7th of May, come to our boutique Napa Winery experience new varietals of Sauvignon Blanc that focus on complexity and longevity.
Our estate bottled 2017 Sauvignon Blanc was fermented on native yeast in a combination of one-third new oak, one-third once-used oak, and one-third stainless steel, giving the wine a richer, creamier texture. Having aged 12 months in French oak, the SB17 has a rich complexity that's striking yet taut on the palate. With softly integrated flavors of acacia, hyacinth, lemon, and vanilla bean, this wine is the perfect introduction to barrel-aged Sauvignon Blanc.
For those who treasure unoaked Sauvignons for their crispy acidity, the 2020 Sauvignon Blanc is a must-try. Having been aged in French oak barrels and stainless-steel drums for six months, the 2020 SB is wonderful now and age-worthy for up to five years.

One current recipe offering, Chicken Milanese, is a delightfully tasty, beautiful dish that pairs nicely with Crosby Roamann's best white wine selections like a Sauvignon Blanc or a Chardonnay from our boutique Napa winery. On this night, however, we chose to pair it with our 2018 Jewel of Skyland Pinot Noir from the Santa Cruz Mountains, alongside our 2016 Crosby's Reserve Cabernet Sauvignon from Napa Valley.
Chicken Milanese
Top with a mound of arugula and chopped vine-ripened tomatoes, garnish with lemon
Paired with boiled butter potatoes with dill and mustard (See our German Potato Salad recipe)
Ingredients
2 cups all-purpose flour
3 teaspoons kosher salt, divided, plus more for seasoning
2 large eggs
2 tablespoons heavy cream (optional)
2 cups fine plain dried breadcrumbs
2 pounds boneless, skinless chicken breasts (or purchase chicken scaloppini)
Freshly ground black pepper
2 cups olive oil for cooking
3 tablespoons unsalted butter
Garnish
1 pound fresh arugula
4 vine ripe tomatoes
1 lemon, cut into 4 wedges
Preparation
Whisk flour and 1 teaspoon salt in a wide shallow bowl. Lightly whisk eggs and cream in another wide shallow bowl until the yolks and whites are just streaky. Mix breadcrumbs and 2 teaspoons salt in a third wide shallow bowl. (See pic)
Pound chicken breasts between sheets of wax paper to 1/4" thickness, being careful not to tear. Season lightly with salt and pepper.
Working in batches, dredge one chicken breast at a time first in the flour mixture; shake off excess. Then -- Dip in egg. Turn to coat; shake off excess. Last -- Dredge in breadcrumbs, pressing to adhere; shake off excess—transfer slices to tray until you are prepared to fry them.
Heat olive oil over medium heat to 350°F. Add butter to skillet and adjust heat to maintain 350°F, just barely smoking. Add chicken breasts, one or two at a time, being careful to leave a one-inch gap around each edge. Let this fry 3-5 minutes per side until just golden brown (see pic).
Clean your saute pan between each round of cooking, as the old oil and butter will turn the breadcrumbs black and burnt. Rinse the saute pan with water and wipe it clean before each round of chicken, being careful to pour a fresh 1/3 cup of olive oil and a fresh tablespoon of butter into the pan before each round of chicken breasts.
Divide fried chicken among plates. Garnish with arugula and tomatoes sliced into 1" chunks. The perfect accompaniment is a pinch of good sea salt and a lemon wedge. Bon appetite!
Pair with a Crosby Roamann Best White Wine
The acidity, flavors, and textures of the Crosby Roamann's best white wines perfectly enhance and heighten the flavors of this Chicken Milanese recipe to create a most memorable dining experience.
Our highly regarded Crosby Roamann boutique Napa winery offers the best white wines for pairing with this and other poultry or seafood dishes.

Dear friends,

We are excited to announce the return of Crosby Roamann Declassified -- our annual spring clearance event and Membership pick-up day:

Crosby Roamann Declassified

March 19, 11am-3pm
Members only 11am-12pm
Open House 12pm-3pm

Members please RSVP if you know you will be attending so we can reserve space for you. Food and wine will be served, and as always, Members are welcome to bring their families. The winery will be open to the public from 12pm-3pm, with mixed case sales starting at $24/mystery case (extremely limited supply).

Save the Date: February 19 -- Spring/Summer 2022 Member Release

Memberships will be charged the second week of February, and all boxes will ship the second week of March, weather permitting. Members may also pick-up day their boxes on March 19. The Spring/Summer 2022 Membership is now available online! You can purchase a Membership here.

And don't forget ...

While some things change, some things never do. As we have been for many years now, Crosby Roamann is a net carbon-zero production facility, and all wines in this year's release were produced and shipped Carbon Neutral by purchasing winery carbon off-sets through www.cooleffect.org.

Lastly -- We couldn't do this without you -- THANK YOU for being a part of the Crosby Roamann life. If you can't connect with us in person, you can find us on Instagram @crosbyroamann

With all our hearts,
Juliana & Sean

Mustard Bloom -- Photo credit @emmakmorris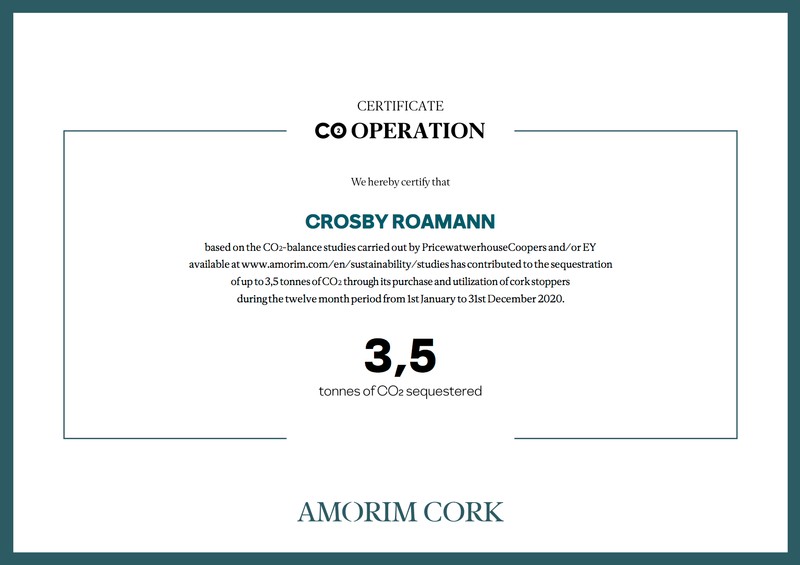 We are proud to be honored by Amorim with this CO2 Sequestration Certificate for our use of all natural cork stoppers in Crosby Roamann wines. This number has been independently validated by Pricewaterhouse Coopers (and/or Ernest and Young). The findings, are the only ones to date that underwent a multi-closure comparative peer review, indicating when considering sequestration by the ecosystem made feasible by the cyclic extraction of cork, a retention capacity up to 309 grams of CO2 is associated with every natural cork stopper and as much as 562 grams with a sparkling wine stopper.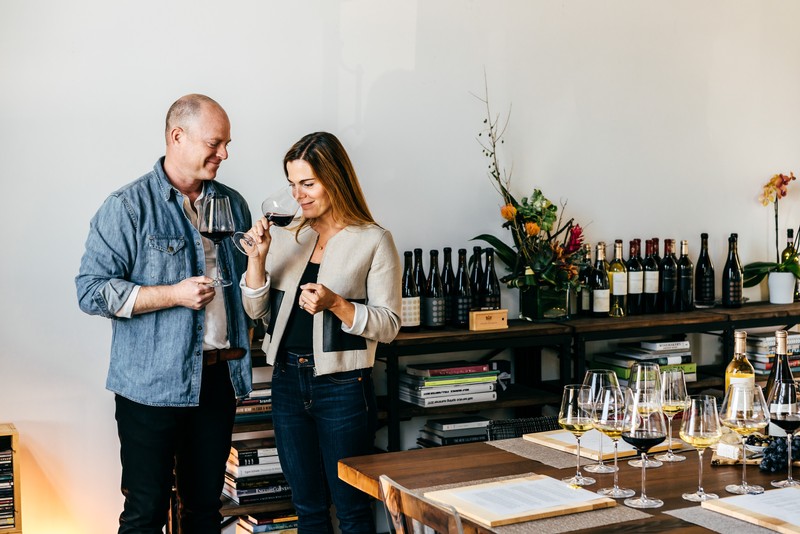 "After you have exhausted what there is in business, politics, conviviality, love, and so on — have found that none of these finally satisfy, or permanently wear — what remains? Nature remains; to bring out from their torpid recesses, the affinities of a man or woman with the open air, the trees, fields, the changes of seasons — the sun by day and the stars of heaven by night." — Walt Whitman
---
We have lost sense of time. The days pass languidly. Everything is slow here in wine country. Most mornings you can find us briefly in the vineyard. The sun rises around six and the early mornings are still cool, routinely in the 40s, sometimes dropping into frost territory on the coldest nights. We are marking out the end posts, measuring off the distance between the grape stakes. We love the feeling of the dust on our hands, love the wisp of dust cloud it makes as we clap our hands together. We have taken to digging up the strangest rocks we can find on the property. All of it is endlessly new. The days are growing slowly warmer. The vines are just beginning to flower.

We are replanting the vineyard to Merlot, Cabernet Sauvignon, Cabernet Franc, and Petit Verdot, and there are two new rows of Bordelaise clone 317 Sauvignon Blanc clone at the entrance to the vineyard. Where some of the oldest vines died over the winter, we are spot-replanting with cuttings we made in early spring of the healthiest vines. We are cultivating the soil with the lush organic cover crop of peas and barley we planted in November and let develop into April. Everything is progressing smoothly.

It is hard to contain the sense of excitement and thrill we have about the wines for release in the new member shipment: the 2020 Estate Bottled Sauvignon Blanc Napa Valley and the 2017 Cabernet Sauvignon Napa Valley.



2020 Estate Bottled White Wine Napa Valley

We harvested 1.9 tons of Sauvignon Blanc from our estate vineyard on September 5, 2020, a mix of Musque and clone 317, 23.5 Brix at harvest. We gently whole-cluster pressed the juice to concrete, and fermented on native yeast for five weeks. The wine then aged seven months in one-third new oak, one-third neutral oak, and one-third stainless steel. We performed a light pad filtration and cold stabilization prior to bottling by hand at the winery, with minimal sulfur. Delightful now, the wine will gain complexity over the next year and reach its apogee in 2022-2023. 117 cases produced.

2017 Cabernet Sauvignon Napa Valley

Our Cabernet Sauvignon vineyard sources are in Coombsville – Harmony School Vineyard, a one acre block of clone 6 – and Calistoga, one and a half acres of clone 337 at the edge of the Vaca Mountains. The grapes are sorted and destemmed by hand into stainless steel and receive a five-day cold soak. Temperatures rise and native fermentation initiates by day seven, with an average 35 days in tank. We press entirely by hand in our old hand-crank press, and the wine undergoes malolactic fermentation in barrel, aging twenty-four months in mostly new French oak. Cabernet Franc from Summer Hill Vineyard and a small amount of Merlot is added during aging for spice and complexity. This very small production cuvee is destined for eight-ten years of development in bottle, with at least three years to reach full maturity. 107 cases produced.

The Spring/Summer 2021 Membership includes a mix of Estate Bottled White Wine and Cabernet Sauvignon. Premier Members receive three bottles each, shipping included with a 10% discount -- $270. Collector members receive six bottles, shipping included with a 20% discount -- $480. (Crosby's Reserve Club Members may opt in or out of this release with shipping included and a 10% discount.) Please contact us here to add the SS21 shipment to your Membership.

Memberships will be charged May 10, 2020. All boxes will begin to ship the last week of May, weather permitting.

All our best,
Juliana & Sean