June 2, 2023 | Cooking With Crosby Roamann | Sean McBride
Cooking with Crosby Roamann: Farfalle with Creamy Smoked Salmon, Fresh Peas, and Dill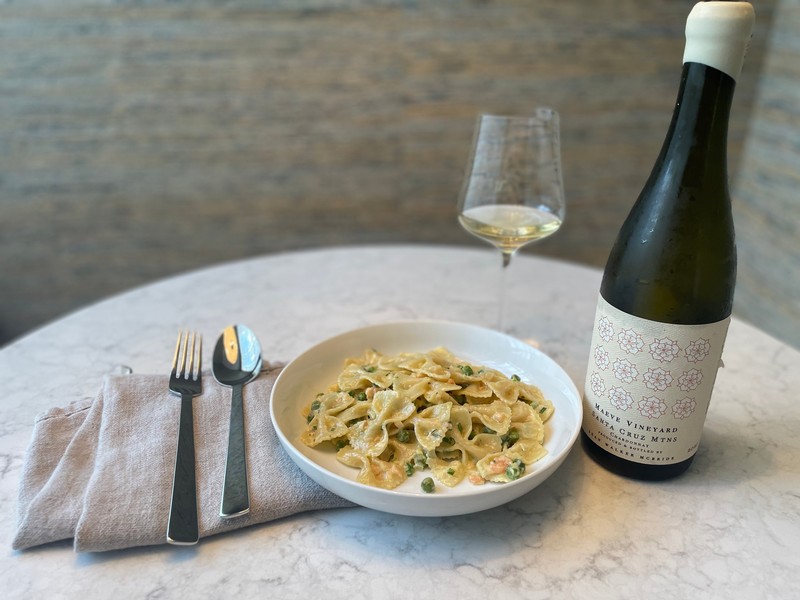 It's the perfect time of year for these fresh spring pasta recipes, doctored with ingredients fresh from the garden. This only-very-lightly-creamy pasta dish pairs so deliciously with our Maeve Vineyard Chardonnay from the Santa Cruz Mountains, and it was a perfect base recipe to add some fresh peas and wild dill from our garden. The inspiration came from an old recipe in Food & Wine Magazine (pictured) to which we added a couple ingredients and updated the proportions a little bit.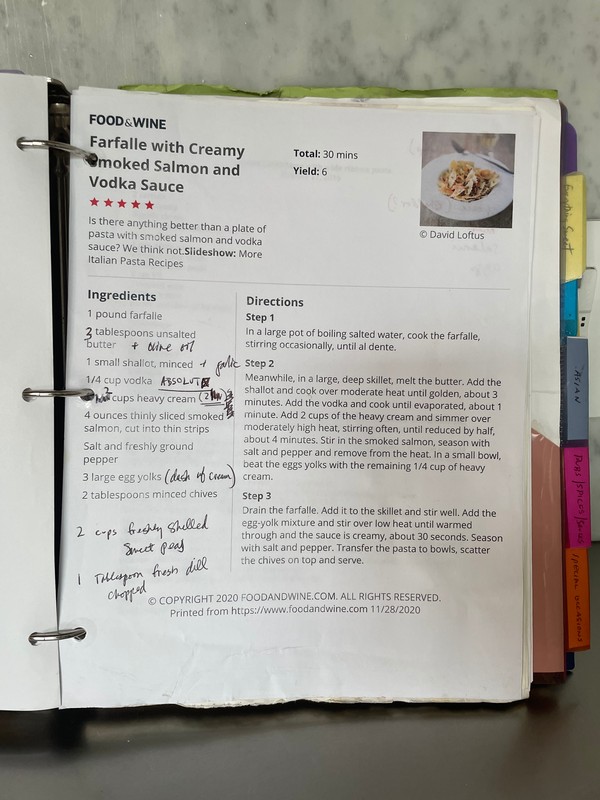 Ingredients:
1 pound farfalle
3 tablespoons butter, cut into 1 tablespoon chunks
2 tablespoons olive oil
1 small shallot, halved and sliced thinly
3 garlic cloves, chopped
1/4 cup ABSOLUT vodka
2 cups heavy cream (plus a dash for the eggs)*
4 ounces smoked salmon, cut into 1" strips
2 cups freshly shelled sweet peas
1 tablespoon fresh dill, chopped
3 large egg yolks (plus a dash of cream)
2 tablespoons fresh chives, chopped into tiny pieces
Maldon sea salt and frehsly ground red/black/green peppers to taste
* We don't keep fresh cream in the house on an everyday basis, and we don't cook with it often enough to have any use for left over heavy cream, so this is admittedly a terribly annoying amount of cream to have to purchase for this dish and then not to use. So we just purchase a pint of heavy cream and then set aside a dash to add to the eggs in order to finish the sauce. And if you forget to add that dash to the eggs and instead add it all to the cream sauce, well like so what? Just add the eggs to the pasta sauce at the very end as if you're making a carbonara.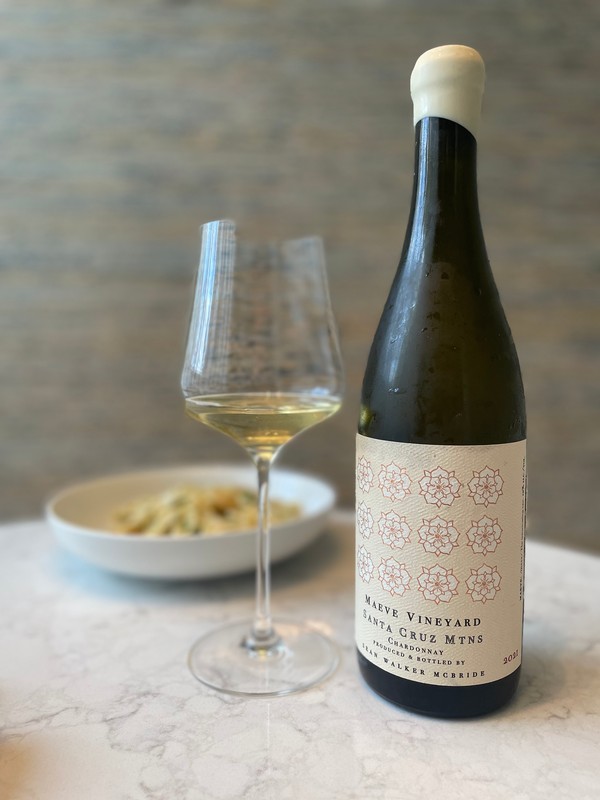 Preparation:
Melt the butter in the olive oil, don't let it brown.
Add the shallots, give it a minute, then add the garlic. Season with a little Kosher salt. Let them sweat. Time for a glass of Chardonnay!
Remove the sauce pan from the heat, carefully add the ABSOLUT**, then return it to a simmer. A sniff of boiling vodka won't hurt anyone :) It's delish!
When the vodka has reduced by half, add the cream, and stir to consolidate. A little spring of fresh dill in the cream isn't a bad idea, just don't get carried away. How's that chardonnay tasting?
Give that cream a chance to come up to a gentle simmer, and start to skim the solids into the sauce. It's a good time to add the peas, to let them soften as the cream condenses. Then add the rest of the fresh dill. In about five minutes of a gentle simmer, add the smoked salmon strips, and give them a couple minutes in the sauce to tighten up. Keep stirring everything together, then remove from the heat and set it aside.
Immediately drain the pasta, and return it to its pot. Cover it with your cream sauce. Stir in your egg yolks, and let it all rest together for about five minutes. Then plate in shallow bowls, and enjoy
Serve with our Maeve Vineyard Chardonnay Santa Cruz Mountains 2021.
** ABSOLUT is our "absolute" favorite cooking vodka. We use it for every dish that calls for vodka. It's punchy enough to add a bit of flavor, but not so expensive we feel we're pouring money down the drain. ABSOLUT is a Kitchen Staple in our house.
Comments
Commenting has been turned off.