March 9, 2023 | Cooking With Crosby Roamann | Sean McBride
Cooking with Crosby Roamann: Pâté de Campagne – aka Country Pate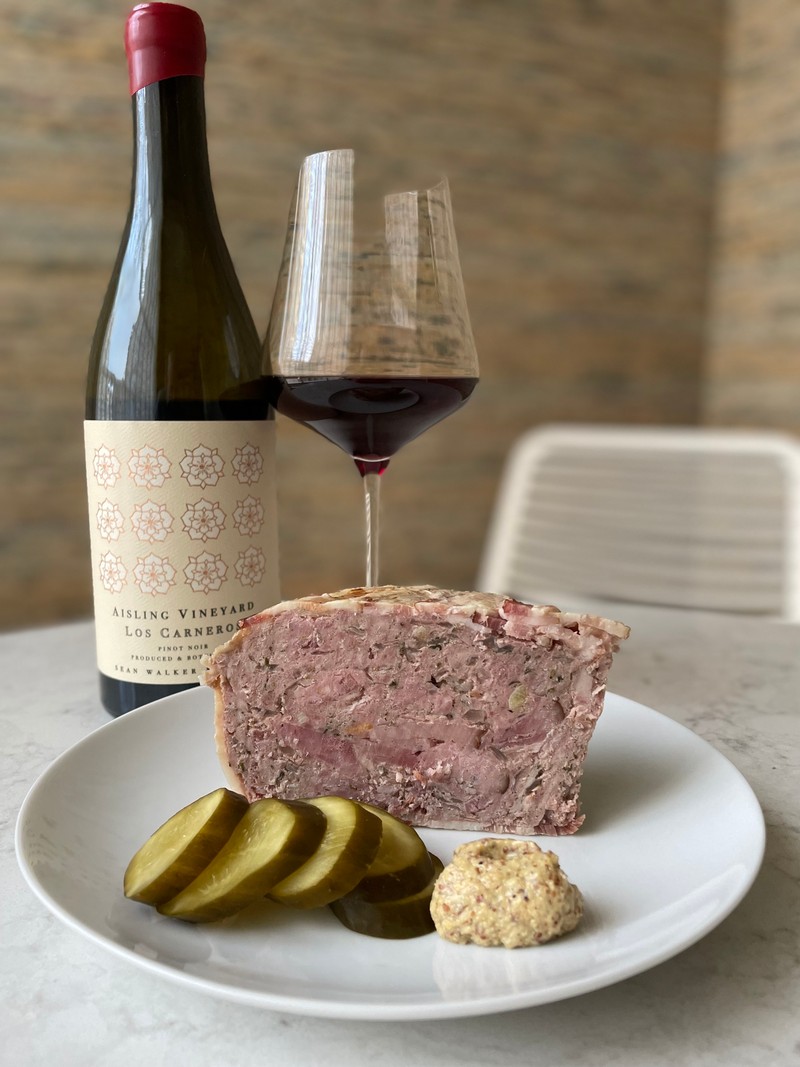 Cooking with Crosby Roamann: Pâté de Campagne – aka Country Pate
Ingredients
¾ cup Brandy (we use house made Crosby Roamann brandy – call us for info)
3 tablespoons unsalted butter
1 cup chopped onion
1 pound ground veal
1 pound ground pork
2 packages bacon (about 1.5 pounds) chopped into 1" pieces
5 garlic cloves, finely chopped
2 ½ teaspoons Kosher salt
2 ½ teaspoons dry thyme
2 teaspoons dry rosemary
1 teaspoon ground black pepper
2 large eggs, lightly beaten
½ cup heavy cream
1 small ham steak, cut into ¼-inch thin strips
Preparation
Preheat the over to 350 degrees.
Boil Brandy until reduced to 1/2 cup, about 2 minutes. Let it cool.
Melt butter in a skillet over medium heat, then add onion, and later, the garlic, and saute until the onion is soft and translucent but not brown, about 10 minutes.
While the onion and garlic are cooking, combine ground pork and bacon in large bowl using your fingers. When the onion has cooled a touch, add the onion salt, thyme, rosemary, and pepper to bowl with pork mixture and mix until incorporated. Add eggs, cream, and reduced Cognac. Mix well. You now have a big bowl of pate filling!
Line a 9x5x3-inch metal loaf pan with bacon slices, arranging bacon slices across width of pan and a couple slices on each short side of pan and overlapping pan on all sides. Using hands, fill the terrine halfway with the meat filling, then arrange ham slices throughout the middle of the pan in a middle layer, then top with remaining meat mixture. I like to heap the meat filling into a mound on top of the pan, then cover it with the bacon slices that are hanging over the sides of the pan.
Cover the pan tightly with foil and place it in a larger (13x9x2-inch) metal baking pan and transfer them to the oven. Pour boiling water into baking pan to come halfway up sides of loaf pan. Bake pâté about 2 hours 15 minutes.
At the conclusion of baking, remove the pate pan from the baking pan and then dispose of the water from the baking pan. Return the pate pan to the baking pan, and place a heavy skillet filled with 2 to 3 heavy cans atop pâté to weigh down. Let this rest for an hour or so, until it has cooled. Then chill overnight.
Place loaf pan with pâté in larger pan of hot water for about 3 minutes. Invert pâté onto platter; discard fat from platter and wipe clean. Cut pâté crosswise into 1/2-inch slices.
Serve with good bread, cornichons and country Dijon mustard. Enjoy!
(Adapted from Bon Appetit Magazine)
Comments
Commenting has been turned off.