Vintner's Press Report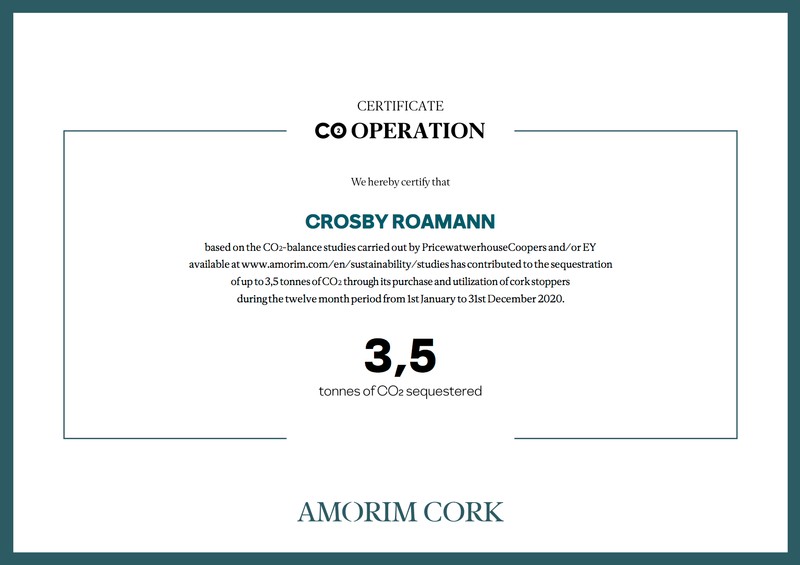 We are proud to be honored by Amorim with this CO2 Sequestration Certificate for our use of all natural cork stoppers in Crosby Roamann wines. This number has been independently validated by Pricewaterhouse Coopers (and/or Ernest and Young). The findings, are the only ones to date that underwent a multi-closure comparative peer review, indicating when considering sequestration by the ecosystem made feasible by the cyclic extraction of cork, a retention capacity up to 309 grams of CO2 is associated with every natural cork stopper and as much as 562 grams with a sparkling wine stopper.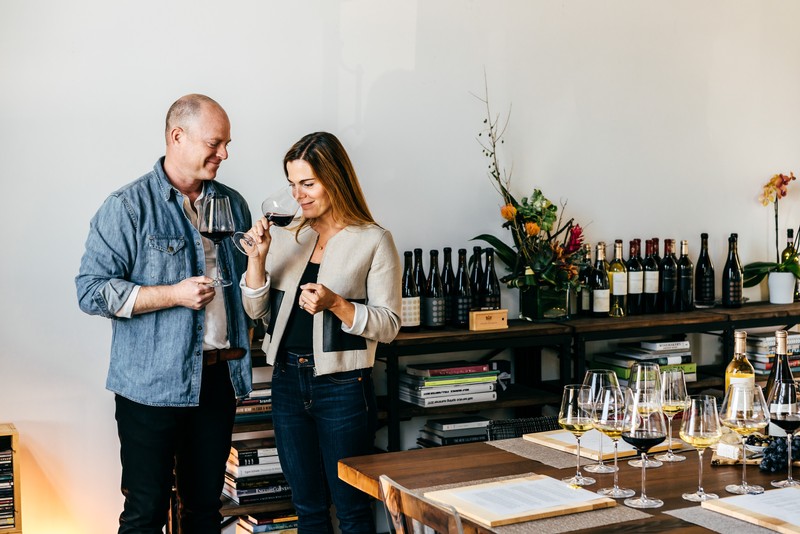 "After you have exhausted what there is in business, politics, conviviality, love, and so on — have found that none of these finally satisfy, or permanently wear — what remains? Nature remains; to bring out from their torpid recesses, the affinities of a man or woman with the open air, the trees, fields, the changes of seasons — the sun by day and the stars of heaven by night." — Walt Whitman
---
We have lost sense of time. The days pass languidly. Everything is slow here in wine country. Most mornings you can find us briefly in the vineyard. The sun rises around six and the early mornings are still cool, routinely in the 40s, sometimes dropping into frost territory on the coldest nights. We are marking out the end posts, measuring off the distance between the grape stakes. We love the feeling of the dust on our hands, love the wisp of dust cloud it makes as we clap our hands together. We have taken to digging up the strangest rocks we can find on the property. All of it is endlessly new. The days are growing slowly warmer. The vines are just beginning to flower.

We are replanting the vineyard to Merlot, Cabernet Sauvignon, Cabernet Franc, and Petit Verdot, and there are two new rows of Bordelaise clone 317 Sauvignon Blanc clone at the entrance to the vineyard. Where some of the oldest vines died over the winter, we are spot-replanting with cuttings we made in early spring of the healthiest vines. We are cultivating the soil with the lush organic cover crop of peas and barley we planted in November and let develop into April. Everything is progressing smoothly.

It is hard to contain the sense of excitement and thrill we have about the wines for release in the new member shipment: the 2020 Estate Bottled Sauvignon Blanc Napa Valley and the 2017 Cabernet Sauvignon Napa Valley.



2020 Estate Bottled White Wine Napa Valley

We harvested 1.9 tons of Sauvignon Blanc from our estate vineyard on September 5, 2020, a mix of Musque and clone 317, 23.5 Brix at harvest. We gently whole-cluster pressed the juice to concrete, and fermented on native yeast for five weeks. The wine then aged seven months in one-third new oak, one-third neutral oak, and one-third stainless steel. We performed a light pad filtration and cold stabilization prior to bottling by hand at the winery, with minimal sulfur. Delightful now, the wine will gain complexity over the next year and reach its apogee in 2022-2023. 117 cases produced.

2017 Cabernet Sauvignon Napa Valley

Our Cabernet Sauvignon vineyard sources are in Coombsville – Harmony School Vineyard, a one acre block of clone 6 – and Calistoga, one and a half acres of clone 337 at the edge of the Vaca Mountains. The grapes are sorted and destemmed by hand into stainless steel and receive a five-day cold soak. Temperatures rise and native fermentation initiates by day seven, with an average 35 days in tank. We press entirely by hand in our old hand-crank press, and the wine undergoes malolactic fermentation in barrel, aging twenty-four months in mostly new French oak. Cabernet Franc from Summer Hill Vineyard and a small amount of Merlot is added during aging for spice and complexity. This very small production cuvee is destined for eight-ten years of development in bottle, with at least three years to reach full maturity. 107 cases produced.

The Spring/Summer 2021 Membership includes a mix of Estate Bottled White Wine and Cabernet Sauvignon. Premier Members receive three bottles each, shipping included with a 10% discount -- $270. Collector members receive six bottles, shipping included with a 20% discount -- $480. (Crosby's Reserve Club Members may opt in or out of this release with shipping included and a 10% discount.) Please contact us here to add the SS21 shipment to your Membership.

Memberships will be charged May 10, 2020. All boxes will begin to ship the last week of May, weather permitting.

All our best,
Juliana & Sean
We've received a couple of questions from customers about what it means when we say this or that wine is "Carbon Neutral," so we decided to forward along this explanation from our Carbon Neutrality partner www.cooleffect.com,
"The terms 'carbon neutral' and 'carbon neutrality' have been the terminology used for describing sustainability practices using offsets for the past 20 years. However, times are changing and so are claims that can be made. Scientists are becoming more specific about the requirements associated with those terms, but these requirements are causing unintended consequences in the market.

"Let's start with the definitions. Currently, scientists associated with the IPCC have defined the following:
Climate Neutral: A state in which human activities result in no net effect on the climate system (all GHGs + radiative forcing).
Net Zero: When carbon emissions (including emissions beyond carbon dioxide) are balanced by anthropogenic removals over a specified period of time (all GHGs).
Carbon Neutral or Net Zero CO2: When anthropogenic CO2 emissions are balanced globally by anthropogenic CO2 removal over a specified period of time.
Carbon Negative: When a business removes more carbon from the atmosphere than it generates (Forbes).
"Whether these definitions will apply to offsetting in general is still under consideration. This is extremely important because credits that meet the strict scientific definition of 'removals' required for 'carbon neutrality' or 'net zero' are in short supply."
Crosby Roamann wines marked "Carbon Neutral" were produced in a year in which we paid to offset our Carbon footprint 100%. We estimate certain factors like farming CO2 production and the cost of shipping one case of wine cross-country, and add those estimates to specific values we have at the winery, such as total electricity, miles driven, etc., to come up with our Carbon load. We then invest that value in offsetting technologies. To learn more, please visit www.cooleffect.com.
Dear Friends,

We hope this letter finds you and your friends and family doing well. Perhaps it goes without saying – it's been a crazy vintage!

If time is short, here's the release in a nutshell:
Life is good ... but we miss you in the winery! Schedule a tasting here.
We purchased a vineyard in Carneros and are transitioning to 100% estate fruit.
We have a new website for our Pinot Noir wines, www.seanwmcbride.com
The New Release: Members receive a six-bottle wood box of Crosby's Reserve 2017 the last week of October, $360 (shipping included)
All wines are carbon neutral
Each membership plants 10 trees in California
Collectors (12 bottles+) also adopt an African Elephant
Spread The Word.

Here in Napa, we have so much to be grateful for. We have been spared the worst of the fires this year, and the past week has seen clear blue skies and mild fall weather, but let us start with you, our dear friends who have been on this winemaking journey with us for the past … oh, let's just call it the past decade – we could not do this without you and are so grateful for your continued support. If you would like to stop by the winery for a tasting, check our schedule here or email the winery.

The News from Napa Valley.
First, we are so excited and thrilled to be making an estate wine this year from a vineyard we purchased in Los Carneros, Napa Valley. This Sauvignon Blanc is tasting so deliciously already we cannot wait to share it with you – but that will have to be in the Spring Release!

And despite the difficult growing conditions this year, we are making lots of rosé and red wine, and our first sparkling wine. We pressed Old Saint George into rosé for a sparkling wine, and also pressed a portion of Gremlin Vineyard into a light bodied rosé for everyday drinking. 2020 will also see single vineyard designate Pinot Noirs from The China Block and Gremlin Vineyard. We are also producing a small amount of Cabernet Sauvignon from two vineyards we have worked with for a long time, and fermentations are nearly complete – fingers crossed!

The New Website.
As Crosby Roamann begins the transition to 100% estate fruit, we have also taken the next big step in expanding and differentiating our set of single vineyard wines under the Sean W. McBride label. Going forward, you will find all the new Pinot Noir wines at our new website -- www.seanwmcbride.com. Please check it out! Members with existing Pinot Noir Memberships will transition to the new site by the end of the year. We will be sending more news and information about this process as we go.

The New Releases.
This season, we are offering Premier Members our six-bottle wood boxes of 2017 Crosby's Reserve Cabernet SauvignonNapa Valley, shipping included, at $360/box (regular price $540). Premier Members may also purchase additional bottles of our current releases at a 10% discount. Collectors will receive a six-bottle wood box of 2017 Crosby's Reserve Cabernet SauvignonNapa Valley plus three bottles of 2017 Merlot and three bottles of 2018 Chardonnay.

Find the new wines here.

All boxes will ship the last week of October, weather permitting.

Giving Back.
Every Member Plants Ten Trees In California – In response to this year's fire season and the state of California's natural forests, this year the purchase of each Membership box will plant ten trees in California. It's our goal to plant 2500 trees before the end of the year.

Collectors and Additional Purchases Adopt An African Elephant – Working in concert with the World Wildlife Foundation, this year Collector Members and Members who purchase an additional six bottles of new releases will also see a portion of their purchase price placed towards the adoption of an African Elephant at https://www.worldwildlife.org. It is our goal to adopt a herd of African Elephants by the end of the year – that's 100 Elephants! You can help by purchasing a Membership here.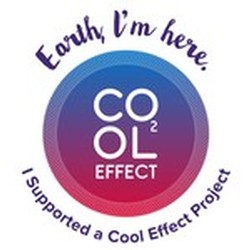 We are Carbon Neutral – And last but certainly not least, rest assured that your purchase of Crosby Roamann wines is a net-zero carbon transaction. By working with www.cooleffect.org, we have paid to offset our carbon footprint 100% -- including all energy, production, and shipping. All the wines in this year's release were produced and shipped Carbon Neutral by purchasing winery carbon off-sets through cooleffect.org, so you can feel good about your purchase.

Spread The Word.
Perhaps you like the idea of planting a tree with every bottle of Crosby Roamann wine? Perhaps you enjoy the idea of adopting a herd of African Elephants as a part of your membership in our winery? And perhaps you have a friend or loved one whom you think might benefit from enjoying the same privileges of Membership that you do? If that's the case, then forward our missive along! Most of our Members arrive at us by word of mouth, so if you know someone who you think may enjoy saving the planet and enjoying some great wine along the way, then please forward our email along.

With all our hearts,
Juliana & Sean
Another week begins in quarantine, and we are motivated to help you get through this. As promised, we are unveiling the third special surprise of the month --



Members enjoy an extra 10% discount -- this week only. Premier Members enjoy 10% and Collectors enjoy 20% off already discounted wines. No code necessary, simply login and your extra discount will be automatically applied. Combine these discounts with 12-bottle orders for even more savings.

Chardonnay Library Release: 2014, 2015, 2016, 2017. For this week only, we are re-releasing a very small number of bottles of Chardonnay from our library to pair with Steve's Chicken Paprikas (recipe below) -- a pairing made in heaven.

And if you haven't decided to become a member yet, now would be a really great time to join! We offer complimentary shipping for our members on all orders, and other perks and incentives like comped tastings, invitations to exclusive events (in better times) and member gifts. If you'd like us to place the order on our end we are happy to do that too, just reach out to Juliana.

We also wanted to share a family recipe that's a true comfort food for us, and we hope it will offer comfort to you too! See below for Steve's Chicken Paprikas and Nokedli (Dumpling) recipe. This pairs stupendously with our 2017 Chardonnay, which Steve (Juliana's dad and Hungarian American émigré) would have loved.

Warmly,

Juliana & Sean

Steve's Chicken Paprikas and Hungarian Nokedli (Dumplings)
Ingredients for Chicken Paprikas
One whole chicken (3lb) cut up into ten pieces (each split breast cut in half, with legs, thighs, and wings separate) and seasoned generously with salt
One tablespoon butter
Three tablespoons olive oil
Two heaping tablespoons (divided) of Sweet Hungarian Paprika like this one from The Spice House.
One large yellow onion, diced
One tomato, diced
One 4 oz can of V-8
Salt & Pepper to taste
Two green bell peppers, sliced
1/3 cup Sour Cream

Directions for Chicken Paprikas
Melt the tablespoon of butter in the olive oil in a large Dutch oven (or stock pot) on the stove top. (We use this one from Williams Sonoma.)
Sear the chicken legs and thighs, skin side down, for two minutes, then turn and sear two minutes more. Remove from heat and set aside, then repeat with remaining pieces of chicken, leaving the oil and shmaltz to saute the onions next.
Add the diced onion and cook until translucent -- 3-5 minutes -- then remove the Dutch oven from the heat. Sprinkle on 1 heaping tablespoon of the sweet paprika and stir it into the onions, then return the Dutch oven to the stove top and add the chicken back to the pot, skin side up, nestled together.
Add the diced tomato and the 4 oz can of V-8, then sprinkle the second heaping tablespoon of Hungarian paprika on top.
Cook, covered, on medium heat for 40 minutes until the chicken is tender and falling off the bone.
Add the two sliced green bell peppers to the pot and recover, then cook for another 10 minutes, until the peppers are tender but not limp.
Finally, remove the Dutch over from heat, and gently stir in one-third cup of sour ream, stirring gently until absorbed. Serve chicken in its bright red-orange sauce on top of the nokedli (see below).
Ingredients for Nokedli (Dumplings)
4 eggs
1 teaspoon salt
1 and a half cups water
3-4 cups of flour
1 large pot filled with salted boiling water
1 tablespoon butter & 1-2 tablespoons olive oil (to coat the Nokedli)

Directions for Nokedli
Note: You will need a spaetzle maker like this one to prepare the dumplings.
Bring large pot filled with salted water to boil.
Combine eggs, salt and water, beating well with whisk
Add flour, a little at a time, and only enough flour to make a soft, sticky dough. This should be somewhere between 3-4 cups of flour. Let the dough rest for 10 minutes.
Add about one cup at a time to the top of the spaetzle maker, straining the dough back and forth across the pot, letting the dumplings fall into the boiling water. Keep adding dough a little at a time to the spaetzle maker until you are through with the dough.
Stir nokedli in boiling water for a few minutes and immediately strain.
Add olive oil and butter to the pot, then stir the Nokedli back in. Add salt to taste. Ladle into bowls and add the chicken paprikas on top.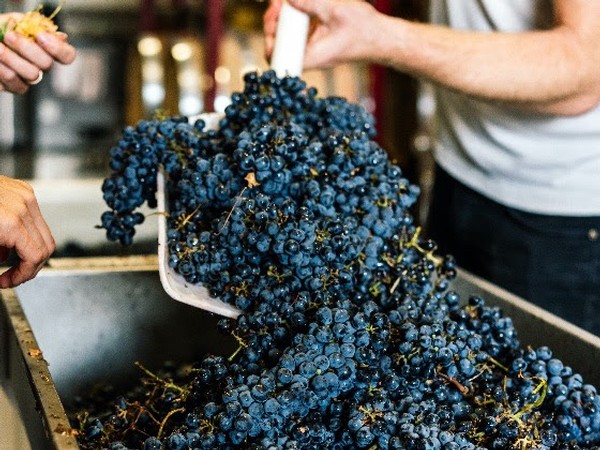 As the weeks stretch on in these crazy times, we hope that you are staying healthy. Each week this month we will be offering something special, because in the absence of connecting with you in person, we hope we can connect in other ways.

As the days are getting longer and slightly warmer, and most of us are at home waiting for 5pm, we can't think of a better time to release our new 2018 Rosé of Pinot Noir. This Rosé is that most magical, effortless of wines...crisp, light, deceptively easy-seeming on the surface, brooding just beneath and bursting with flavors of strawberry, apricot, citrus and clove, pairing with just about anything or nothing at all. No need to wait until 5pm. Enjoy a glass at lunch, or at 3pm on its own just because.

We are offering our 2018 Rosé of Pinot for just $18/bottle (normally $21) for this release week only, because we all need a little of that summertime feeling in a glass. Produced from Pinot Noir from the Gremlin Vineyard in Sonoma, we made just 90 cases (4 barrels).

We also still have a little of our screamingly delicious 2017 Rosé left at the winery. We are offering this until it's gone at $15/bottle. (6 bottle minimum orders for shipping apply). 10% discount applies on all 12 bottle orders.

Stay healthy and happy!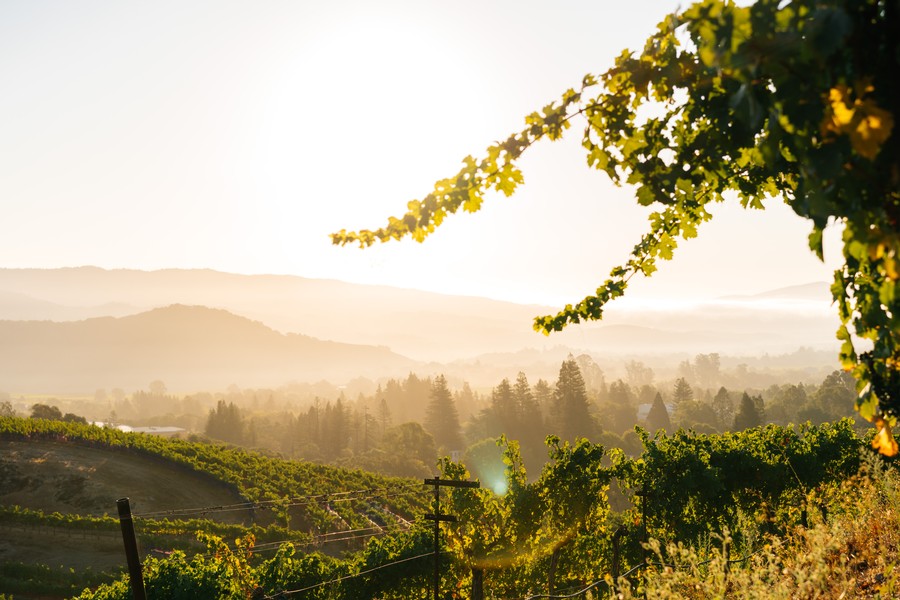 We hope that this post finds you and your family healthy and safe.

Not if, but that we survive is because we connect. We do not exist in a vacuum, life does not thrive by itself, or in quarantine. We will be here when you venture outdoors again, but for now the tasting room will remain closed until further notice. Our Declassifiedevent is postponed tentatively until April 18. Notwithstanding the closure of the tasting room, member-packages and orders will be shipping this week.

In lieu of tastings we have re-opened our online store:
Purchases of six-bottles ship for $1 (contiguous 48 states)
Purchases of twelve-bottles receive a 10% discount and ship for $1
The incentives apply automatically at checkout.

Thank you for continuing to support small family-run businesses like ours. We look forward to reconnecting with you in person when it's safe to do so in April.

Sincerely,
Juliana & Sean

PS. A note on the nature and promise of hope.

As poetry month is nearly upon us amidst this pandemic, we thought we'd take a moment to highlight the poetry of survival, of hope. There is of course Emily Dickinson's "'Hope' is the Thing with Feathers, That perches in the soul – And sings the tune without the words – And never stops – at all . . ." and then there is the poetry of Rudyard Kipling's masterpiece If and The Survival, and William Ernest Henley's Invictus– but these seem better suited for war-time analogies – and so it was Edith Wharton who caught our eye this morning as we were looking for something suitable to share … We want to leave you with these last thoughts on Spring, on hope, on survival, on connectedness. Because soon we will back outdoors together, relishing the warmth on our skin, the shouts of wild children and the murmurs of strangers meandering arm-in-arm along the city streets.

When you and I, like all things kind or cruel,
The garnered days and light evasive hours,
Are gone again to be a part of flowers
And tears and tides, in life's divine renewal,

If some grey eve to certain eyes should wear
A deeper radiance than mere light can give,
Some silent page abruptly flush and live,
May it not be that you and I are there?
--Edith Wharton

We are here. We will be here. We will see you in Spring.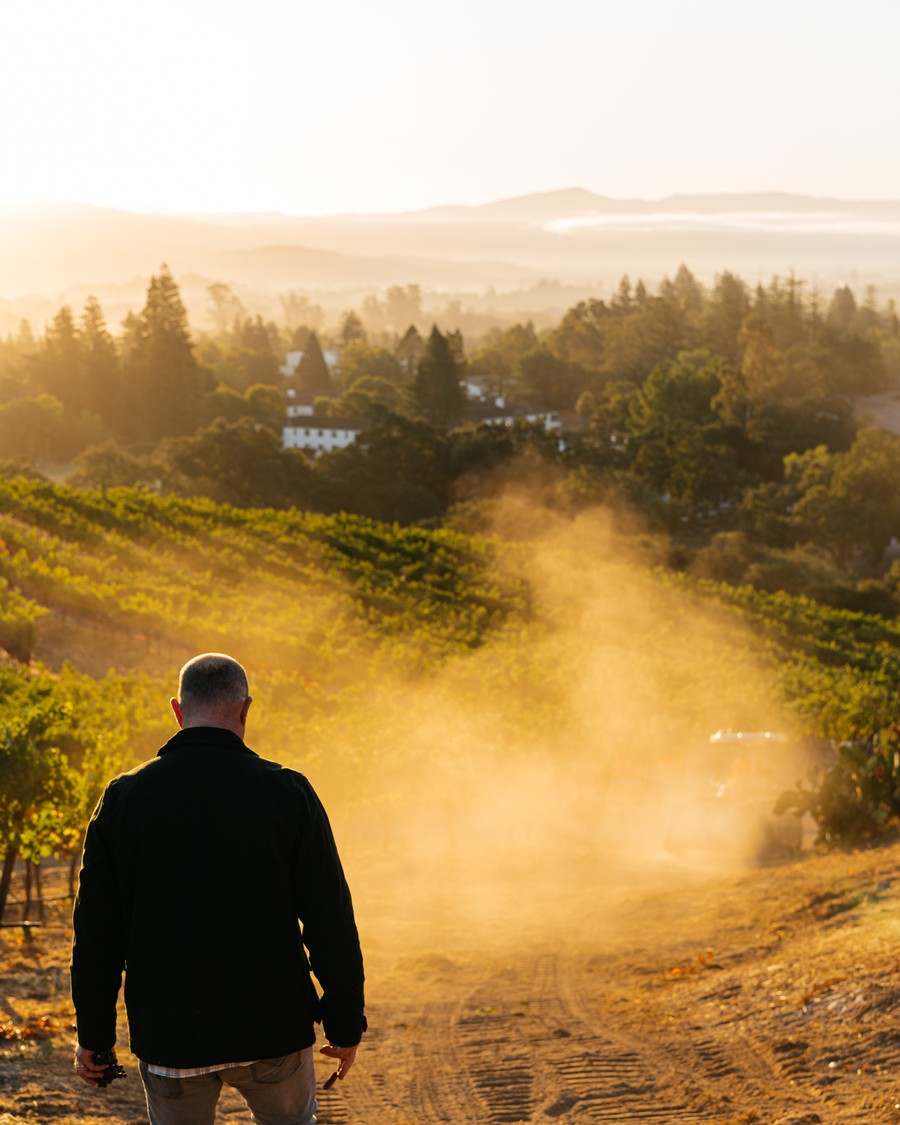 Hello from Napa Valley! It is a gorgeous, extended winter here in the north bay. The mornings are still cool and occasionally overcast, but the sun is shining almost every day and the afternoons are distinctly warm.

This time of year, we have the privilege of introducing you to our new wines – so many new wines! And see below for news on Crosby Roamann Declassified– our annual OPEN HOUSE on March 21st, 11-4 – we will be planting a tree for every bottle sold this year – read more below!



Crosby Roamann New Releases

2018 Sauvignon Blanc, Napa Valley. Whole-cluster pressed and fermented on native yeast. Aged for six months in one-third new French oak, the balance stainless steel, with three final months all in stainless steel prior to a light pad-filtration and bottling by hand at the winery. Six barrels, 115 cases produced. $24; Members only.

2017 Merlot, Napa Valley. Fully-destemmed to stainless steel. Fermented on native yeast thirty-two days prior to pressing in our old, hand-crank basket press. Aged in one-third new French oak for twenty-two months, and bottled by hand at the winery with neither fining nor filtration. Two barrels; 51 cases produced. $45; Members only.

Produced & Bottled by Sean W. McBride New Releases

The newest wine in our repertoire, 2017 Annie's Pinot Noir, a blend of Gremlin Vineyard, Los Carneros, Sonoma County (60%) and The China Block, Filigreen Farm, Anderson Valley (40%). Both lots fermented on native yeast fourteen days; we pressed by hand, and the wine aged twenty-four months in a mix of stainless steel and neutral French oak. Neither fined nor filtered, we bottled by hand at the winery. Five and a half barrels; 131 cases produced. $32; Members only.

We are also very happy to announce the first of our 2018 single vineyard Pinot Noirs – 2018 Jewel of Skyland, Santa Cruz Mountains, Pinot Noir. This one-acre, dry-farmed vineyard in the heart of the Santa Cruz Mountains is planted to three different clones of Pinot Noir, creating a rich, layered, and balanced wine. We fermented the fruit in open top containers on native yeasts for fourteen days and pressed by hand. The wine aged for twelve months in 25% new French oak. $35; Members only.

2018 The China Block, Filigreen Farm, Anderson Valley, Pinot Noir. 100% Biodynamic fruit from the south block of Filigreen Farm, fermented on native yeast fourteen days, pressed entirely by hand, aged in one-half new French oak twelve months, prior to bottling by hand at the winery unfined and unfiltered. Four and a half barrels; 110 cases produced. $38; Members only.
---
Crosby Roamann Declassified – March 21st, 2020

It's that time of year again when we open the winery for Spring Cleaning. We will have an extremely limited number of wines starting at $24/case. Additionally, a small number of hand-signed art labels will be available. This is a ONE-DAY ONLY EVENT – while supplies last. This year we will plant a tree for every bottle you buy. Buy a case, plant twelve trees, save the planet on a Saturday.

11am-12pm Members only
12-4pm Doors open
Event closes at FOUR PM.

We will have wines to taste, as well as some small bites. Please RSVP if you know you will be joining us. Groups of ten or more must make a reservation!

Stay Connected

We are on the road a lot this time of year, visiting New York, Illinois, Colorado, and Texas. Watch out for new events by following us online @crosbyroamann and @seanwmcbride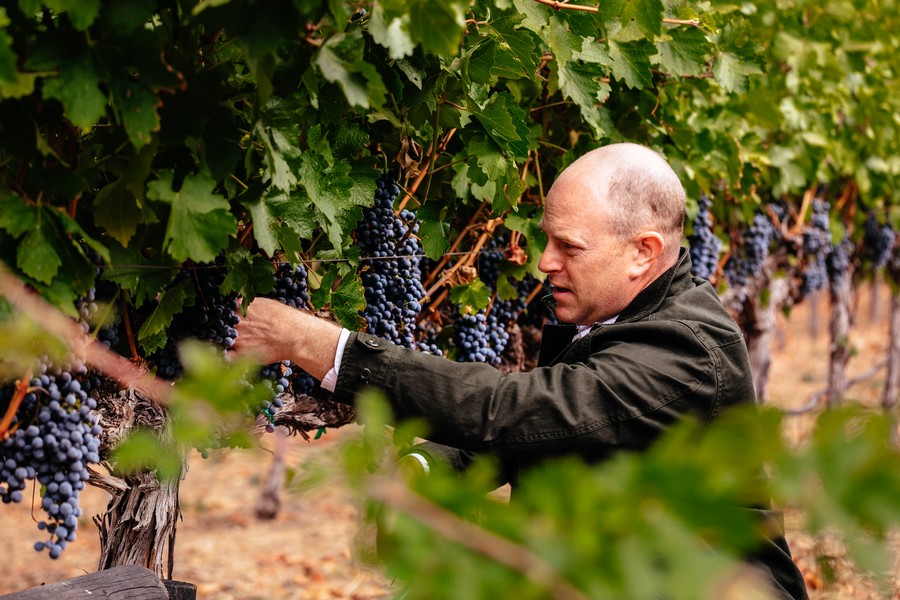 Happy Holidays!

Whether it'll be roast goose or takeout Chinese, we are so thrilled to be able to offer you a combination of two magnums to grace your holiday table this year -- our 2012 Merlot and 2012 Cabernet Sauvignon from Oakville; Fedex 2-day shipping included. Member discounts applied automatically at checkout. Details below.

The 2019 harvest is complete and resting gracefully in cellar. We are excited to begin to share some details with you about these wines. We have been working diligently to produce wines of substance and balance without losing the transparency and purity of fruit that we hope mark our wines in the best of vintages. 2019 was classic, reminiscent of 2012; perhaps 2007 as well. To name just a few, the Cabernets, from three vineyards in Coombsville, Yountville, and St. Helena, are taut and luscious. Come taste with us from barrel in cellar this winter by making an appointment here.

Until then, enjoy these two wonderfully aged Napa Valley wines. At seven years of bottle age, they are just peaking. Don't miss them!
2012 Merlot Oak Knoll District of Napa Valley 1500ml -- Magnum
This single vineyard wine comes from Jaeger Ranch on Big Ranch Road. The fruit was manually sorted and aged thirty months in a combination of French and American oak barrels, 50% new. The wine is balanced by sweet blackberry flavors and a tart raspberry sweetness that lingers on the finish. 164 cases produced.
2012 Cabernet Sauvignon Oakville Napa Valley 1500ml -- Magnum
The 2012 Cabernet Sauvignon from Oakville comes from young vines grown in a deep composite gray clay soil with tiny, bright blue berries. We harvested by hand on the afternoon of October 22, and manually sorted and fermented in temperature-controlled stainless steel for twenty-eight days. One barrel of Merlot from the Oak Knoll District was blended in (10%), and the wine spent thirty months in French and American oak barrels, 60% new. We produced ten barrels of this wine. The wine is layered and refined, with notes of blueberries, mild dried herbs, vanilla and confectioner's sugar. 207 cases produced.

Two Magnum pack $320, Fedex 2-day included.

Warmest wishes this holiday season,

Juliana & Sean
Dear Sean,

We are truly excited to announce our Fall/Winter 2019 release. This release includes single vineyard Chardonnay from Carneros, biodynamic Pinot Noir from the Anderson Valley, and the new release of our signature Crosby's Reserve Cabernet Sauvignon 2016. Members please see following section for details on your next shipment.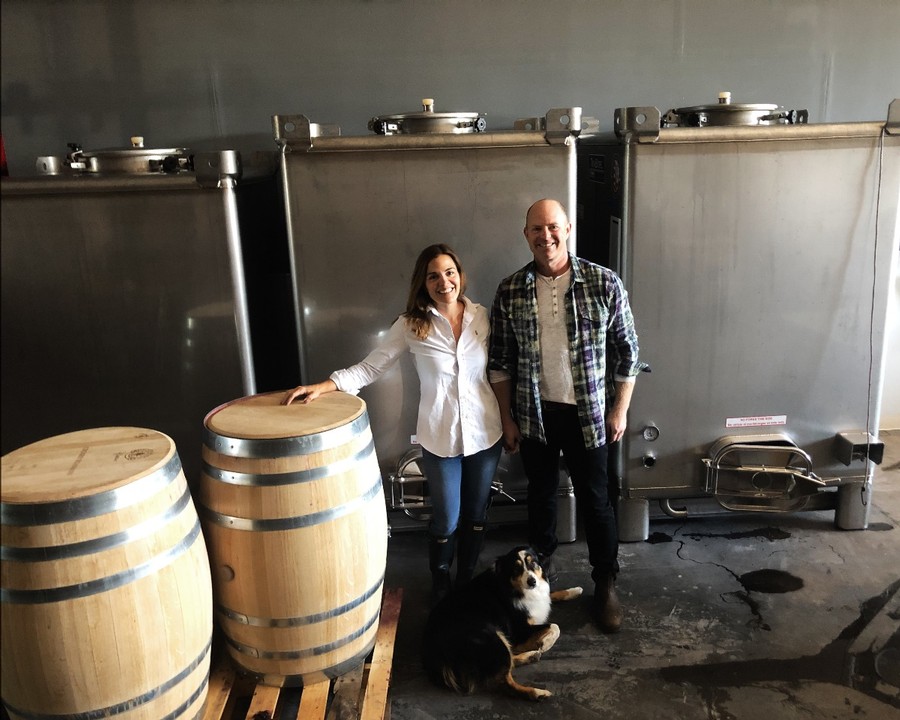 New Releases

Our 2017 Chardonnay from the Loma Blanca vineyard was hand-picked at dawn, whole-cluster pressed and fermented in 25% new French barrels, then aged 12 months in oak. Plus, two delightfully different and thoughtful Pinot Noirs from two different blocks of the biodynamic Filligreen Farm, 2017 China Block and 2017 Old St. George. Our 2017 China Block fermented on native yeast, with 50% whole clusters, and was pressed entirely by hand in our old hand-crank press. The wine completed malolactic fermentation naturally in barrel, and aged twelve months in French oak barrels, 33% new. Just three barrels; 74 cases produced. Our 2017 Old St. George is selected from old-clone Pinot Noir grafted onto 65-year-old Saint George rootstock. This block ripens more slowly than the rest of the vineyard and is always picked last. We fermented the 2017 vintage on naturally occurring yeasts in concrete, with 50% stem inclusion, and we pressed entirely by hand. The wine aged in 50% new French oak for twelve months. Just two and a quarter barrels; 60 cases produced.

And lastly, our 2016 Crosby's Reserve, a true beauty in a bottle, and proof that the best things come to those who wait. Crosby's Reserve is a barrel selection of Cabernet Sauvignon (90%) and Merlot (10%). The Cabernet Sauvignon is sourced from two gorgeous small vineyards in Coombsville, then sorted and de-stemmed by hand into new French oak barrels for extended maceration. The 2016 fermented in a combination of stainless steel (35 days) and new French oak for 56 days. We pressed entirely by hand in our old hand-crank press, and aged the wine 24 months in all new French oak. On the palate -- blue fruited with blackberry jam, dark cocoa and roast coffee bean. You can read more about each of these wines on our website and store.

We are still holding shipments until the first week of October in most cases depending on where you live, but we're back open and ready for your orders.

For Members

Our standard membership box will include 2 bottles of 2017 Chardonnay, 2 bottles of 2016 Crosby's Reserve and 1 bottle each of the 2017 China Block and Old St. George Pinot Noirs. Collectors will receive 4 bottles each of Chardonnay and Crosby's Reserve and 2 bottles each of the Pinot Noirs. Reds-only members will receive 2 bottles of Crosby's Reserve and 2 bottles each of the Pinot Noirs. And finally Pinot lovers will receive 3 bottles each of the 2017 Filligreen Farm Pinot Noirs.

Boxes will be shipping the first week of October weather permitting. If you'd like to make changes to your allocations, please choose from what is available on the website. On the members-only page you can make these changes or email Juliana. You will also find some additional items available once you log in.

Harvest 2019

And finally, we are back in the vineyards and busy in the cellar! Sauvignon Blanc is in the egg, still fermenting. The Gremlin Vineyard Pinot Noir has finished fermentation and is going through malolactic in barrel. In tank, we have Merlot from Dunaweal Lane, China Block Pinot Noir, two new blocks of Cabernet Sauvignon (more on them later) from old vines above Yountville and St. Helena, as well as Pinot Noir from Jewel of Skyland in the Santa Cruz Mountains. 2019 Harvest is going to be big overall, but has all the signs of a classic California vintage, and we are rolling through a bit earlier than in years past.

You can follow along on all the Harvest pictures on our Instagram page. It's a magical time of year!

We look forward to introducing you to our wines at our table or yours.

Cheers,

Juliana & Sean