December 30, 2022 | Cooking With Crosby Roamann | Sean McBride
Cooking with Crosby Roamann: Pork Schnitzel with German Potato Salad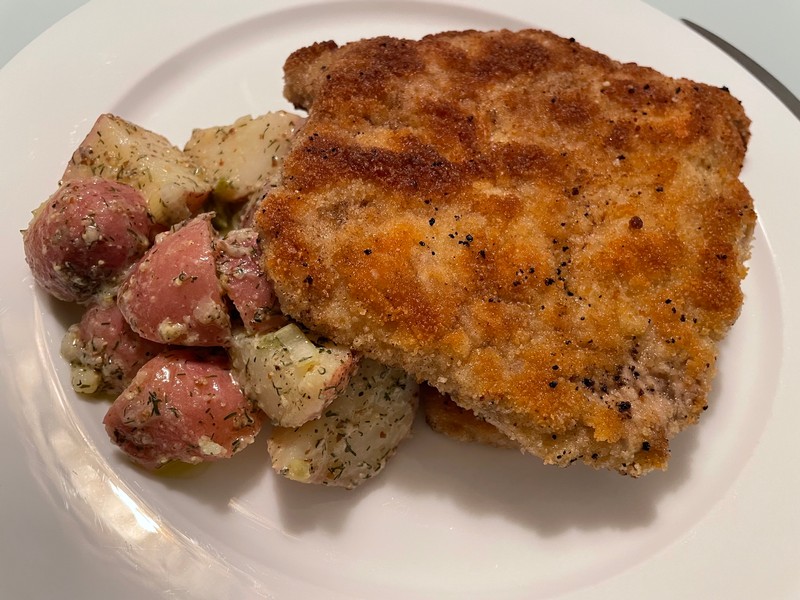 Every year on Grandpa Bob's birthday we make something like this pork schnitzel. The recipe has changed over the years -- sometimes we make it with veal, the real Wiener Schnitzel style -- but often we make it with pork instead. Grandpa Bob loved it both ways. There are so many versions of schnitzel recipes out there, but the basic premise is always the same. A good example, and the version we checked out this year as a refresher, was this classic recipe from Martha Stewart: Wiener Schnitzel with Pork.

One thing that doesn't seem to change is the accompanying German Potato Salad. I have been developing this recipe for decades now, and we use it to accompany most of the schitnzels we make at home, as well as a lot of our summer BBQ. It's easy, delicious, and quick.
This dish pairs perfectly with both our Chardonnay and Pinot Noir. Check them out here.
Enjoy!
German Potato Salad
Ingredients
1.5-2 lbs. small red potatoes, quartered
3 scallions, whites and green parts, halved and sliced thinly
3 Tbspn European style butter
1 Tbspn olive oil
1 Tbspn white wine vinegar (we make our own with leftover white wine, and have it available for free at the tasting room)
4 Tbspn Grey Poupon Country Dijon Mustard
1 Tbspn dry dill (during the summer we sub this for fresh)
1 Tbspn Kosher salt
Fresh cracked black pepper to taste
Directions
Place the quartered potatoes in a small saucepan (like this one from Williams Sonoma) and cover halfway with cold water. Cover and bring to a boil, then uncover and simmer gently until the water has mostly evaporated, leaving only a tablespoon or two. Remove from the heat.
Add butter immediately, then the olive oil, vinegar, mustard, dill, salt, and a crack of pepper. Add scallions. Stir to coat (try not to mush the potatoes too much!)
Enjoy!
Comments
Commenting has been turned off.