May 6, 2021 | Letters from Napa Valley, New Releases | Sean McBride
Estate Bottled White Wine and New Member Shipments Spring/Summer 2021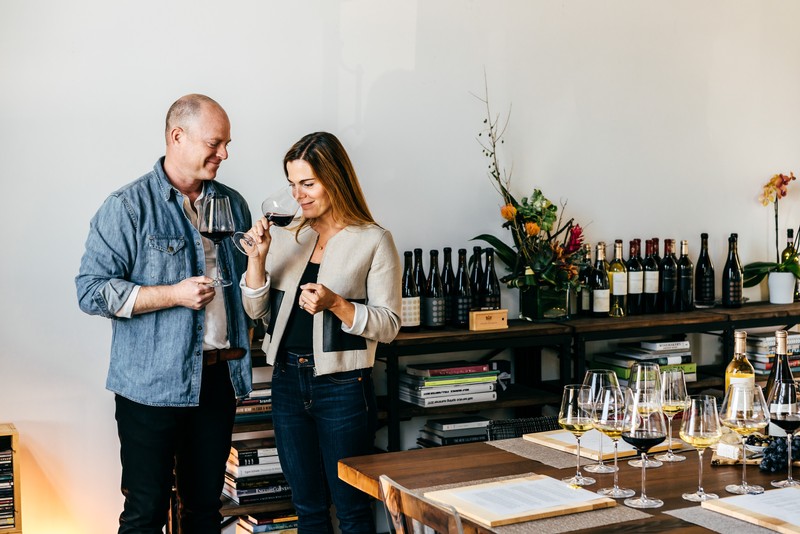 "After you have exhausted what there is in business, politics, conviviality, love, and so on — have found that none of these finally satisfy, or permanently wear — what remains? Nature remains; to bring out from their torpid recesses, the affinities of a man or woman with the open air, the trees, fields, the changes of seasons — the sun by day and the stars of heaven by night." — Walt Whitman
---
We have lost sense of time. The days pass languidly. Everything is slow here in wine country. Most mornings you can find us briefly in the vineyard. The sun rises around six and the early mornings are still cool, routinely in the 40s, sometimes dropping into frost territory on the coldest nights. We are marking out the end posts, measuring off the distance between the grape stakes. We love the feeling of the dust on our hands, love the wisp of dust cloud it makes as we clap our hands together. We have taken to digging up the strangest rocks we can find on the property. All of it is endlessly new. The days are growing slowly warmer. The vines are just beginning to flower.

We are replanting the vineyard to Merlot, Cabernet Sauvignon, Cabernet Franc, and Petit Verdot, and there are two new rows of Bordelaise clone 317 Sauvignon Blanc clone at the entrance to the vineyard. Where some of the oldest vines died over the winter, we are spot-replanting with cuttings we made in early spring of the healthiest vines. We are cultivating the soil with the lush organic cover crop of peas and barley we planted in November and let develop into April. Everything is progressing smoothly.

It is hard to contain the sense of excitement and thrill we have about the wines for release in the new member shipment: the 2020 Estate Bottled Sauvignon Blanc Napa Valley and the 2017 Cabernet Sauvignon Napa Valley.



2020 Estate Bottled White Wine Napa Valley

We harvested 1.9 tons of Sauvignon Blanc from our estate vineyard on September 5, 2020, a mix of Musque and clone 317, 23.5 Brix at harvest. We gently whole-cluster pressed the juice to concrete, and fermented on native yeast for five weeks. The wine then aged seven months in one-third new oak, one-third neutral oak, and one-third stainless steel. We performed a light pad filtration and cold stabilization prior to bottling by hand at the winery, with minimal sulfur. Delightful now, the wine will gain complexity over the next year and reach its apogee in 2022-2023. 117 cases produced.

2017 Cabernet Sauvignon Napa Valley

Our Cabernet Sauvignon vineyard sources are in Coombsville – Harmony School Vineyard, a one acre block of clone 6 – and Calistoga, one and a half acres of clone 337 at the edge of the Vaca Mountains. The grapes are sorted and destemmed by hand into stainless steel and receive a five-day cold soak. Temperatures rise and native fermentation initiates by day seven, with an average 35 days in tank. We press entirely by hand in our old hand-crank press, and the wine undergoes malolactic fermentation in barrel, aging twenty-four months in mostly new French oak. Cabernet Franc from Summer Hill Vineyard and a small amount of Merlot is added during aging for spice and complexity. This very small production cuvee is destined for eight-ten years of development in bottle, with at least three years to reach full maturity. 107 cases produced.

The Spring/Summer 2021 Membership includes a mix of Estate Bottled White Wine and Cabernet Sauvignon. Premier Members receive three bottles each, shipping included with a 10% discount -- $270. Collector members receive six bottles, shipping included with a 20% discount -- $480. (Crosby's Reserve Club Members may opt in or out of this release with shipping included and a 10% discount.) Please contact us here to add the SS21 shipment to your Membership.

Memberships will be charged May 10, 2020. All boxes will begin to ship the last week of May, weather permitting.

All our best,
Juliana & Sean
Comments
Commenting has been turned off.